Composer: Sri Tallapaka Annamacharya (Annamayya అన్నమయ్య) , May 9, 1408 – February 23, 1503 was born to Narayana Suri and Lakkamamba in Tallapaka, a village in current day Kadapa district of Andhra Pradesh. More….

Keerthana No. 245 ; Volume No. 1
Copper Sheet No. 40
Pallavi: Namo Narayanaya Namah (నమో నారాయణాయ నమః )
Ragam: Sriragam
Language: Telugu (తెలుగు)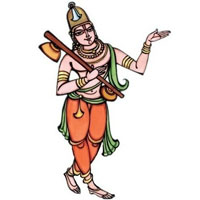 Recitals

Awaiting Contributions.

Awaiting Contributions.
This Kriti was originally composed in Telugu. Other languages are for your convenience.
Pallavi
|| namO nArAyaNAya namaH | samadhikAnaMdAya sarvESvarAya ||
Charanams
|| dharaNIsatIGana stanaSailapariraMBa- | parimaLa Sramajala pramadAya |
sarasija nivAsinI sarasapraNAmayuta- | caraNAyatE namO sakalAtmakAya ||
|| satyaBAmAmuKAMcana patravallikA- | nitya racanakriyA nipuNAya |
kAtyAyanI stOtrakAmAya tE namO | pratyakSha nijaparabrahma rUpAya ||
|| dEvatAdhipa makuTadivya ratnAMSusaM- | BAvitAmala pAdapaMkajAya |
kaivalya kAminIkAMtAya tE namO | SrIvEMkaTAcala SrInivAsAya ||

We will update this page , once we find comprehensive meaning. Feel free to contribute if you know.