Composer: Sri Tallapaka Annamacharya (Annamayya అన్నమయ్య) , May 9, 1408 – February 23, 1503 was born to Narayana Suri and Lakkamamba in Tallapaka, a village in current day Kadapa district of Andhra Pradesh. More….
Keerthana No. 17
Copper Sheet No. 3
Pallavi: Nivekani yinka (నీవేకాని యింక)
Ragam: Sriragam
Language: Telugu (తెలుగు)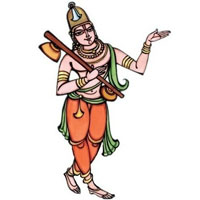 Recitals
Awaiting Contributions.
…
Awaiting Contributions.
[audio: audio-instrumental-file-name.mp3].
This Kriti was originally composed in Telugu. Other languages are for your convenience.
Pallavi
|| నీవేకాని యింక నేనన్య మెరుగనే | త్రోవజూసి నాకు తోడయ్యెద వయ్య ||
Charanams
|| అపరాధ శత కోట్లయిన నీ వొక్క | నెపమున ననుగావ నేరవా |
అపరిమిత దురితా లైనవి యే- | వుపుమ చేత నన్ను ఉద్ధరించెద వయ్య ||
|| అతిశయముగ కర్మి నైతిని నీ- | మతము నాకొక యింత మఱపవా |
ఇతర కర్మారంభ హితుడనే నాకింక | గతి మోక్ష మెటువలె కల్పించెద వయ్య ||
|| తిరు వేంకటాచలాధీశ్వర నీదు | శరణాగతులను బ్రోవగరాదా |
పరమ దయానంద పరుడవు నీవు యే- | వెరవున భవములు వెడల ద్రోచెద వయ్య ||
.
Pallavi
|| nIvEkAni yiMka nEnanya meruganE | trOvajUsi nAku tODayyeda vayya ||
Charanams
|| aparAdha Sata kOTlayina nI vokka | nepamuna nanugAva nEravA |
aparimita duritA lainavi yE- | vupuma cEta nannu uddhariMceda vayya ||
|| atiSayamuga karmi naitini nI- | matamu nAkoka yiMta marxapavA |
itara karmAraMBa hituDanE nAkiMka | gati mOkSha meTuvale kalpiMceda vayya ||
|| tiru vEMkaTAcalAdhISvara nIdu | SaraNAgatulanu brOvagarAdA |
parama dayAnaMda paruDavu nIvu yE- | veravuna Bavamulu veDala drOceda vayya ||
.

We will update this page , once we find comprehensive meaning. Feel free to contribute if you know.
.