Composer: Muttukumaraswamy (முத்துகுமாரச்வாமி) popularly known as Muthuswamy Dikshithar (முத்துஸ்வாமி தீக்ஷிதர் – ముత్తుస్వామీ డిక్షితర్), (March 24, 1775 – October 21, 1835) was born in Tiruvarur (of Thanjavur district of Tamil Nadu) to a Tamil Iyer Brahmin couple Ramaswami Dikshitar and Subbamma, as the eldest son. He also had two younger brothers Baluswami, Chinnaswami and a sister Balambal.Chidambaranatha Yogi was his guru. More…
Raagam: Sankarabharanam
Taalam: Adi
Diety: Anjaneya Krithis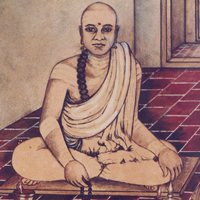 .
Recitals

Awaiting Contributions.


Awaiting Contributions.

We believe this kriti was originally composed in sanskrit. Other languages are for your convenience.
పల్లవి
పవనాత్మజం భజ రే చిత్త
పరమ శాంతం సుర గురు గుహ మహితమ్
సమష్టి చరణమ్
భువన త్రయ వ్యాపకం అతి-లలితం
భూ-సురాది సేవిత రామ దూతం
(మధ్యమ కాల సాహిత్యమ్)
శ్రవణ రామ నామ ప్రభావం
శాశ్వత సంజీవిన్యౌషధ కరమ్
.
பல்லவி
பவனாத்மஜம் ப4ஜ ரே சித்த
பரம ஸா1ந்தம் ஸுர கு3ரு கு3ஹ மஹிதம்
ஸமஷ்டி சரணம்
பு4வன த்ரய வ்யாபகம் அதி-லலிதம்
பூ4-ஸுராதி3 ஸேவித ராம தூ3தம்
(மத்4யம கால ஸாஹித்யம்)
ஸ்1ரவண ராம நாம ப்ரபா4வம்
ஸா1ஸ்1வத ஸஞ்ஜீவின்யௌஷத4 கரம்
.
ಪಲ್ಲವಿ
ಪವನಾತ್ಮಜಂ ಭಜ ರೇ ಚಿತ್ತ
ಪರಮ ಶಾಂತಂ ಸುರ ಗುರು ಗುಹ ಮಹಿತಮ್
ಸಮಷ್ಟಿ ಚರಣಮ್
ಭುವನ ತ್ರಯ ವ್ಯಾಪಕಂ ಅತಿ-ಲಲಿತಂ
ಭೂ-ಸುರಾದಿ ಸೇವಿತ ರಾಮ ದೂತಂ
(ಮಧ್ಯಮ ಕಾಲ ಸಾಹಿತ್ಯಮ್)
ಶ್ರವಣ ರಾಮ ನಾಮ ಪ್ರಭಾವಂ
ಶಾಶ್ವತ ಸಂಜೀವಿನ್ಯೌಷಧ ಕರಮ್
.
पल्लवि
पवनात्मजं भज रे चित्त
परम शान्तं सुर गुरु गुह महितम्
समष्टि चरणम्
भुवन त्रय व्यापकं अति-ललितं
भू-सुरादि सेवित राम दूतं
(मध्यम काल साहित्यम्)
श्रवण राम नाम प्रभावं
शाश्वत सञ्जीविन्यौषध करम्
.
pallavi
pavanAtmajaM bhaja rE citta
parama SAntaM sura guru guha mahitam
samashTi caraNam
bhuvana traya vyApakaM ati-lalitaM
bhU-surAdi sEvita rAma dUtaM
(madhyama kAla sAhityam)
SravaNa rAma nAma prabhAvaM
SASvata sanjIvinyaushadha karam
.
പല്ലവി
പവനാത്മജം ഭജ രേ ചിത്ത
പരമ ശാന്തം സുര ഗുരു ഗുഹ മഹിതമ്
സമഷ്ടി ചരണമ്
ഭുവന ത്രയ വ്യാപകം അതി-ലലിതം
ഭൂ-സുരാദി സേവിത രാമ ദൂതം
(മധ്യമ കാല സാഹിത്യമ്)
ശ്രവണ രാമ നാമ പ്രഭാവം
ശാശ്വത സഞ്ജീവിന്യൌഷധ കരമ്
.
Pallavi
O mind ! Worship the son of vayu, the serene one, the one praised by the devas and guruguha.
Samashti Charanam
The one that pervades the three worlds, the most beautiful one, the messenger of Rama, the one worshipped by the brahamanas, the one who has the fame of hearing the chants of the name of Rama, the one that bears the life-giving sanjeevini mountain.
.