Composer: Sri Tallapaka Annamacharya (Annamayya అన్నమయ్య) , May 9, 1408 – February 23, 1503 was born to Narayana Suri and Lakkamamba in Tallapaka, a village in current day Kadapa district of Andhra Pradesh. More….
Keerthana No.94
Copper Sheet No. 316
Pallavi:puttubogulamu Nemu (పుట్టుభోగులము నేము)
Ragam: Padi
Language: Telugu (తెలుగు)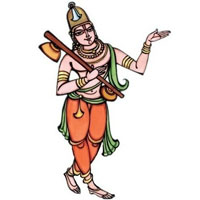 Recitals
Awaiting Contributions.
…
Awaiting Contributions.
[audio: audio-instrumental-file-name.mp3].
This Kriti was originally composed in Telugu. Other languages are for your convenience.
Pallavi
|| పుట్టుభోగులము నేము భువి హరిదాసులము | నట్టనడిమి దొరలు నాకియ్యవలెనా ||
Charanams
|| పల్లకీలు నందనాలు పడివాగె తేజీలు | వెల్లవిరి మహాలక్ష్మీ విలాసములు |
తల్లియాకె మగనినే దైవమని కొలిచేము | వొల్లగే మాకే సిరులు వొరులియ్యవలెనా ||
|| గ్రామములు వస్త్రములు గజముఖ్య వస్తువులు | ఆమని భూకాంతకు నంగభేదాలు ||
భామిని యాకె మగని ప్రాణధారి లెంకలము | వోలి మాకాతడే యిచ్చీ వొరులియ్యవలెనా ||
|| పసగల పదవులు బ్రహ్మ నిర్మితములు | వెస బ్రహ్మతండ్రి శ్రీ వేంకటేశుడు |
యెసగి యాతడే మమ్మునేలి యిన్నియు నిచ్చె | వొసగిన మాసొమ్ములు వొరులియ్యవలెనా
.
Pallavi
|| puTTuBOgulamu nEmu Buvi haridAsulamu | naTTanaDimi doralu nAkiyyavalenA ||
Charanams
|| pallakIlu naMdanAlu paDivAge tEjIlu | vellaviri mahAlakShmI vilAsamulu |
talliyAke maganinE daivamani kolicEmu | vollagE mAkE sirulu voruliyyavalenA ||
|| grAmamulu vastramulu gajamuKya vastuvulu | Amani BUkAMtaku naMgaBEdAlu ||
BAmini yAke magani prANadhAri leMkalamu | vOli mAkAtaDE yiccI voruliyyavalenA ||
|| pasagala padavulu brahma nirmitamulu | vesa brahmataMDri SrI vEMkaTESuDu |
yesagi yAtaDE mammunEli yinniyu nicce | vosagina mAsommulu voruliyyavalenA ||
.

We will update this page , once we find comprehensive meaning. Feel free to contribute if you know.
.