Composer: Muttukumaraswamy (முத்துகுமாரச்வாமி) popularly known as Muthuswamy Dikshithar (முத்துஸ்வாமி தீக்ஷிதர் – ముత్తుస్వామీ డిక్షితర్), (March 24, 1775 – October 21, 1835) was born in Tiruvarur (of Thanjavur district of Tamil Nadu) to a Tamil Iyer Brahmin couple Ramaswami Dikshitar and Subbamma, as the eldest son. He also had two younger brothers Baluswami, Chinnaswami and a sister Balambal.Chidambaranatha Yogi was his guru. More…
Raagam: Hindolam
Taalam: Rupakam
Diety: Sarasaraswati Devi krithis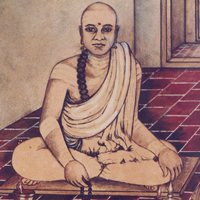 .
Recitals
Album: Unknown | Voice: Raji Gopalakrishnan
Album: Unknown | Voice: Tiruvaaroor Raamaswaami
Album: Unknown | Voice: Rajkumar Bharathi

Awaiting Contributions.

We believe this kriti was originally composed in sanskrit. Other languages are for your convenience.
పల్లవి
సరస్వతీ విధి యువతీ సంరక్షతు మాం శ్రీ
సమష్టి చరణం
మురళీ వీణా గాన వినోదినీ సంవేదినీ
చారు చంద్ర హాసినీ సరసీరుహ లోచనీ
(మధ్యమ కాల సాహిత్యం)
మురారి గురు గుహ మోదినీ శబ్దార్థ స్వరూపిణీ
హంసినీ బ్రహ్మాణీ ఆరక్త వర్ణ రూపిణీ
.
பல்லவி
ஸரஸ்வதீ விதி4 யுவதீ ஸம்ரக்ஷது மாம் ஸ்ரீ
ஸமஷ்டி சரணம்
முரளீ வீணா கா3ன வினோதி3னீ ஸம்வேதி3னீ
சாரு சந்த்3ர ஹாஸினீ ஸரஸீருஹ லோசனீ
(மத்4யம கால ஸாஹித்யம்)
முராரி கு3ரு கு3ஹ மோதி3னீ ஸ1ப்3தா3ர்த2 ஸ்வரூபிணீ
ஹம்ஸினீ ப்3ரஹ்மாணீ ஆரக்த வர்ண ரூபிணீ
.
ಪಲ್ಲವಿ
ಸರಸ್ವತೀ ವಿಧಿ ಯುವತೀ ಸಂರಕ್ಷತು ಮಾಂ ಶ್ರೀ
ಸಮಷ್ಟಿ ಚರಣಂ
ಮುರಳೀ ವೀಣಾ ಗಾನ ವಿನೋದಿನೀ ಸಂವೇದಿನೀ
ಚಾರು ಚಂದ್ರ ಹಾಸಿನೀ ಸರಸೀರುಹ ಲೋಚನೀ
(ಮಧ್ಯಮ ಕಾಲ ಸಾಹಿತ್ಯಂ)
ಮುರಾರಿ ಗುರು ಗುಹ ಮೋದಿನೀ ಶಬ್ದಾರ್ಥ ಸ್ವರೂಪಿಣೀ
ಹಂಸಿನೀ ಬ್ರಹ್ಮಾಣೀ ಆರಕ್ತ ವರ್ಣ ರೂಪಿಣೀ
.
पल्लवि
सरस्वती विधि युवती संरक्षतु मां श्री
समष्टि चरणम्
मुरळी वीणा गान विनोदिनी संवेदिनी
चारु चन्द्र हासिनी सरसीरुह लोचनी
(मध्यम काल साहित्यम्)
मुरारि गुरु गुह मोदिनी शब्दार्थ स्वरूपिणी
हंसिनी ब्रह्माणी आरक्त वर्ण रूपिणी
.
pallavi
sarasvatI vidhi yuvatI saMrakshatu mAM SrI
samashTi caraNam
muraLI vINA gAna vinOdinI saMvEdinI
cAru candra hAsinI sarasIruha lOcanI
(madhyama kAla sAhityam)
murAri guru guha mOdinI SabdArtha svarUpiNI
haMsinI brahmANI Arakta varNa rUpiNI
.
പല്ലവി
സരസ്വതീ വിധി യുവതീ സംരക്ഷതു മാം ശ്രീ
സമഷ്ടി ചരണമ്
മുരളീ വീണാ ഗാന വിനോദിനീ സംവേദിനീ
ചാരു ചന്ദ്ര ഹാസിനീ സരസീരുഹ ലോചനീ
(മധ്യമ കാല സാഹിത്യമ്)
മുരാരി ഗുരു ഗുഹ മോദിനീ ശബ്ദാര്ഥ സ്വരൂപിണീ
ഹംസിനീ ബ്രഹ്മാണീ ആരക്ത വര്ണ രൂപിണീ
.
Pallavi
Protect me saraswathi ! consort of Brahma.
Charanam
The one who delights in the music of Veena and flute; the all knowing one! The one who has a moon-like smiling countenance; the lotus eyed; the one who pleases Vishnu – the enemy of Mura ; and guruguha; the form of sound and speech; the one who has a swan for a vehicle; The power of Brahma; the reddish eyed
.