Composer: Muttukumaraswamy (முத்துகுமாரச்வாமி) popularly known as Muthuswamy Dikshithar (முத்துஸ்வாமி தீக்ஷிதர் – ముత్తుస్వామీ డిక్షితర్), (March 24, 1775 – October 21, 1835) was born in Tiruvarur (of Thanjavur district of Tamil Nadu) to a Tamil Iyer Brahmin couple Ramaswami Dikshitar and Subbamma, as the eldest son. He also had two younger brothers Baluswami, Chinnaswami and a sister Balambal.Chidambaranatha Yogi was his guru. More…
Raagam: Varali
Taalam: Rupakam
Diety: Sri Venkateswara Krithis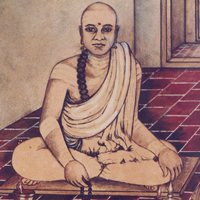 .
Recitals
Album: Unknown | Voice: K.V.Narayanaswamy
Album: Unknown | Voice: Dr.S.R. Srinivasa Iyer
Album: Unknown | Voice: Satur Subramanyam

Awaiting Contributions.

We believe this kriti was originally composed in sanskrit. Other languages are for your convenience.
పల్లవి
శేషాచల నాయకం భజామి
విశేష ఫల ప్రదాయకం
అనుపల్లవి
భాషా రమణ ప్రభృత్యశేషామర నుత –
కౌస్తుభ భూషాలంకృత –
బహు తర వేషాత్మక విగ్రహం
చరణం
మంద హాస వదనం
స్వచ్ఛంద హృదయ సదనం
సుందర జిత మదనం
ముకుందం మధు సూదనం
అరవింద పత్ర నయనం
గోవిందం ఉరగ శయనం
సుర బృంద సత్కృతాధ్యయనం
నంద నారాయణం
(మధ్యమ కాల సాహిత్యం)
పురందరాది దిక్పాల –
సనందనాది ముని వరాళి వందితం
అభినవ గురు గుహ నందితం అనంత కీర్తిం
.
பல்லவி
ஸே1ஷாசல நாயகம் ப4ஜாமி
விஸே1ஷ ப2ல ப்ரதா3யகம்
அனுபல்லவி
பா4ஷா ரமண ப்ரப்4ரு2த்யஸே1ஷாமர நுத –
கௌஸ்துப4 பூ4ஷாலங்க்ரு2த –
ப3ஹு தர வேஷாத்மக விக்3ரஹம்
சரணம்
மந்த3 ஹாஸ வத3னம்
ஸ்வச்ச2ந்த3 ஹ்ரு2த3ய ஸத3னம்
ஸுந்த3ர ஜித மத3னம்
முகுந்த3ம் மது4 ஸூத3னம்
அரவிந்த3 பத்ர நயனம்
கோ3விந்த3ம் உரக3 ஸ1யனம்
ஸுர ப்3ரு2ந்த3 ஸத்க்ரு2தாத்4யயனம்
நந்த3 நாராயணம்
(மத்4யம கால ஸாஹித்யம்)
புரந்த3ராதி3 தி3க்பால –
ஸனந்த3னாதி3 முனி வராளி வந்தி3தம்
அபி4னவ கு3ரு கு3ஹ நந்தி3தம் அனந்த கீர்திம்
.
ಪಲ್ಲವಿ
ಶೇಷಾಚಲ ನಾಯಕಂ ಭಜಾಮಿ
ವಿಶೇಷ ಫಲ ಪ್ರದಾಯಕಂ
ಅನುಪಲ್ಲವಿ
ಭಾಷಾ ರಮಣ ಪ್ರಭೃತ್ಯಶೇಷಾಮರ ನುತ –
ಕೌಸ್ತುಭ ಭೂಷಾಲಂಕೃತ –
ಬಹು ತರ ವೇಷಾತ್ಮಕ ವಿಗ್ರಹಂ
ಚರಣಂ
ಮಂದ ಹಾಸ ವದನಂ
ಸ್ವಚ್ಛಂದ ಹೃದಯ ಸದನಂ
ಸುಂದರ ಜಿತ ಮದನಂ
ಮುಕುಂದಂ ಮಧು ಸೂದನಂ
ಅರವಿಂದ ಪತ್ರ ನಯನಂ
ಗೋವಿಂದಂ ಉರಗ ಶಯನಂ
ಸುರ ಬೃಂದ ಸತ್ಕೃತಾಧ್ಯಯನಂ
ನಂದ ನಾರಾಯಣಂ
(ಮಧ್ಯಮ ಕಾಲ ಸಾಹಿತ್ಯಂ)
ಪುರಂದರಾದಿ ದಿಕ್ಪಾಲ –
ಸನಂದನಾದಿ ಮುನಿ ವರಾಳಿ ವಂದಿತಂ
ಅಭಿನವ ಗುರು ಗುಹ ನಂದಿತಂ ಅನಂತ ಕೀರ್ತಿಂ
.
पल्लवि
शेषाचल नायकं भजामि
विशेष फल प्रदायकम्
अनुपल्लवि
भाषा रमण प्रभृत्यशेषामर नुत –
कौस्तुभ भूषालङ्कृत –
बहु तर वेषात्मक विग्रहम्
चरणम्
मन्द हास वदनं
स्वच्छन्द हृदय सदनं
सुन्दर जित मदनं
मुकुन्दं मधु सूदनं
अरविन्द पत्र नयनं
गोविन्दं उरग शयनं
सुर बृन्द सत्कृताध्ययनं
नन्द नारायणम्
(मध्यम काल साहित्यम्)
पुरन्दरादि दिक्पाल –
सनन्दनादि मुनि वराळि वन्दितं
अभिनव गुरु गुह नन्दितं अनन्त कीर्तिम्
.
pallavi
SEshAcala nAyakaM bhajAmi
viSEsha phala pradAyakam
anupallavi
bhAshA ramaNa prabhRtyaSEshAmara nuta –
kaustubha bhUshAlankRta –
bahu tara vEshAtmaka vigraham
caraNam
manda hAsa vadanaM
svacchanda hRdaya sadanaM
sundara jita madanaM
mukundaM madhu sUdanaM
aravinda patra nayanaM
gOvindaM uraga SayanaM
sura bRnda satkRtAdhyayanaM
nanda nArAyaNam
(madhyama kAla sAhityam)
purandarAdi dikpAla –
sanandanAdi muni varALi vanditaM
abhinava guru guha nanditaM ananta kIrtim
.
പല്ലവി
ശേഷാചല നായകം ഭജാമി
വിശേഷ ഫല പ്രദായകമ്
അനുപല്ലവി
ഭാഷാ രമണ പ്രഭൃത്യശേഷാമര നുത –
കൌസ്തുഭ ഭൂഷാലങ്കൃത –
ബഹു തര വേഷാത്മക വിഗ്രഹമ്
ചരണമ്
മന്ദ ഹാസ വദനം
സ്വച്ഛന്ദ ഹൃദയ സദനം
സുന്ദര ജിത മദനം
മുകുന്ദം മധു സൂദനം
അരവിന്ദ പത്ര നയനം
ഗോവിന്ദം ഉരഗ ശയനം
സുര ബൃന്ദ സത്കൃതാധ്യയനം
നന്ദ നാരായണമ്
(മധ്യമ കാല സാഹിത്യമ്)
പുരന്ദരാദി ദിക്പാല –
സനന്ദനാദി മുനി വരാളി വന്ദിതം
അഭിനവ ഗുരു ഗുഹ നന്ദിതം അനന്ത കീര്തിമ്
.
Pallavi
I chant the name of the Lord of SheshAcala. The bestower of wonderful boons.
Anupallavi
The one worshipped by Brahma , Lord of Saraswati;
The one who wears the Kausthubha jewel.
The idol who is decorated in a multitude of ways ; or (The one who took various incarnations or forms)
Charanam
The one who has a smiling countenance. The one who makes the heart of sages his dwelling place.
The one whose beautfy surpasses manmatha (cupid).
Mukunda, The enemy of Madhu.
The one whose eyes are as wide as the lotus leaf. The one who is The lord of the cows.
The one who lies recumbent on the serpent.
The one who is worshipped by the devas and celestials.
The one who was a cow-herd. The one who is named Narayana.
.