Composer: Sri Tallapaka Annamacharya (Annamayya అన్నమయ్య) , May 9, 1408 – February 23, 1503 was born to Narayana Suri and Lakkamamba in Tallapaka, a village in current day Kadapa district of Andhra Pradesh. More….
Keerthana No. 406
Copper Sheet No. pt 31
Pallavi:Seve Bhaave Sri (సేవే భావే శ్రీ )
Ragam: Salanga nata
Language: Telugu (తెలుగు)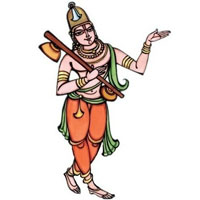 Recitals
Seve Bhaave Sri | సేవే భావే శ్రీ
Album: Private | Voice: Unknown
…
Awaiting Contributions.
[audio: audio-instrumental-file-name.mp3].
This Kriti was originally composed in Telugu. Other languages are for your convenience.
Pallavi
సేవే భావే శ్రీ బృందం
శ్రీ వల్లభ చింతానందం
Charanams
పటుకు తర్కనగు భంజన దీక్షం
కుటిల దురిత హర గుణ దక్షం
ఘటిత మహాఫల కల్పక వృక్షం
చటుల రామానుజ శమదమభిక్షం
కృధ్ధ మృషామత కుంఠన కుంతం
బౌధ్ధాంధకార భాస్వంతం
శుధ్ధ చేదమణి సుసరస్వంతం
సిధ్ధాంతీ కృత చిన్మయ కాంతం
చార్వాక గహన చండకుఠారం
సర్వాప శాస్త్ర శతధారం
నిర్వికార గుణ నిబడ శ్రీ వేంక
టోర్వీధర సంయోగ గభీరం
.
Pallavi
sEvE bhaavE SrI bRmdam
SrI vallabha chintaanandam
Charanams
paTuku tarkanagu bhanjana deeksham
kuTila durita hara guNa daksham
ghaTita mahaaphala kalpaka vRksham
chaTula raamaanuja Samadamabhiksham
kRdhdha mRshaamata kunThana kuntam
boudhdhaaandhakaara bhaaswamtam
Sudhdha chEdamaNi susaraswantam
sidhdhaantI kRta chinmaya kaamtam
chaarvaaka gahana chanDakuThaaram
sarvaapa Saastra Satadhaaram
nirvikaara guNa nibaDa SrI vEnka
TOrvIdhara saMyOga gabhIram
.

We will update this page , once we find comprehensive meaning. Feel free to contribute if you know.
.