Composer: Muttukumaraswamy (முத்துகுமாரச்வாமி) popularly known as Muthuswamy Dikshithar (முத்துஸ்வாமி தீக்ஷிதர் – ముత్తుస్వామీ డిక్షితర్), (March 24, 1775 – October 21, 1835) was born in Tiruvarur (of Thanjavur district of Tamil Nadu) to a Tamil Iyer Brahmin couple Ramaswami Dikshitar and Subbamma, as the eldest son. He also had two younger brothers Baluswami, Chinnaswami and a sister Balambal.Chidambaranatha Yogi was his guru. More…

Raagam: Naree Reethi Gaula
Taalam: Roopakam
Diety: Nilotpalamba vibhakti Krithis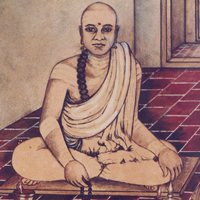 .
Recitals
Album: Unknown | Voice: Dr M.BalamuraliKrishna
Album: Unknown | Voice: Sowmya Srinivasan

Awaiting Contributions.

We believe this kriti was originally composed in sanskrit. Other languages are for your convenience.
పల్లవి
శ్రీ నీలోత్పల నాయికే జగదంబికే
శ్రీ నగర నాయికే మామవ వర దాయికే
అనుపల్లవి
దీన జనార్తి ప్రభంజన రీతి గౌరవే
దేశిక ప్రదర్శిత చిద్రూపిణి నత భైరవే
(మధ్యమ కాల సాహిత్యం)
ఆనందాత్మానుభవే అద్రి రాజ సముద్భవే
సూన శరారి వైభవే జ్ఞాన సుధార్ణవే శివే
చరణము
సంకల్ప వికల్పాత్మక చిత్త వృత్తి జాలే
సాధు జనారాధిత సద్గురు కటాక్ష మూలే
సంకట హర ధురీణ-తర గురు గుహానుకూలే
సమస్త విశ్వోత్పత్తి స్థితి లయాది కాలే
(మధ్యమ కాల సాహిత్యం)
విటంక త్యాగరాజ మోహిత విచిత్ర లీలే
శంకరి కృపాలవాలే హాటక-మయ చేలే
పంకజ నయన విశాలే పద్మ రాగ మణి మాలే
శంకర సన్నుత బాలే శారదే గాన లోలే
.
பல்லவி
ஸ்ரீ நீலோத்பல நாயிகே ஜக3த3ம்பி3கே
ஸ்ரீ நக3ர நாயிகே மாமவ வர தா3யிகே
அனுபல்லவி
தீ3ன ஜனார்தி ப்ரப4ஞ்ஜன ரீதி கௌ3ரவே
தே3ஸி1க ப்ரத3ர்ஸி1த சித்3ரூபிணி நத பை4ரவே
(மத்4யம கால ஸாஹித்யம்)
ஆனந்தா3த்மானுப4வே அத்3ரி ராஜ ஸமுத்3ப4வே
ஸூன ஸ1ராரி வைப4வே ஞான ஸுதா4ர்ணவே ஸி1வே
சரணம்
ஸங்கல்ப விகல்பாத்மக சித்த வ்ரு2த்தி ஜாலே
ஸாது4 ஜனாராதி4த ஸத்3கு3ரு கடாக்ஷ மூலே
ஸங்கட ஹர து4ரீண-தர கு3ரு கு3ஹானுகூலே
ஸமஸ்த விஸ்1வோத்பத்தி ஸ்தி2தி லயாதி3 காலே
(மத்4யம கால ஸாஹித்யம்)
விடங்க த்யாக3ராஜ மோஹித விசித்ர லீலே
ஸ1ங்கரி க்ரு2பாலவாலே ஹாடக-மய சேலே
பங்கஜ நயன விஸா1லே பத்3ம ராக3 மணி மாலே
ஸ1ங்கர ஸன்னுத பா3லே ஸா1ரதே3 கா3ன லோலே
.
ಪಲ್ಲವಿ
ಶ್ರೀ ನೀಲೋತ್ಪಲ ನಾಯಿಕೇ ಜಗದಂಬಿಕೇ
ಶ್ರೀ ನಗರ ನಾಯಿಕೇ ಮಾಮವ ವರ ದಾಯಿಕೇ
ಅನುಪಲ್ಲವಿ
ದೀನ ಜನಾರ್ತಿ ಪ್ರಭಂಜನ ರೀತಿ ಗೌರವೇ
ದೇಶಿಕ ಪ್ರದರ್ಶಿತ ಚಿದ್ರೂಪಿಣಿ ನತ ಭೈರವೇ
(ಮಧ್ಯಮ ಕಾಲ ಸಾಹಿತ್ಯಂ)
ಆನಂದಾತ್ಮಾನುಭವೇ ಅದ್ರಿ ರಾಜ ಸಮುದ್ಭವೇ
ಸೂನ ಶರಾರಿ ವೈಭವೇ ಜ್ಞಾನ ಸುಧಾರ್ಣವೇ ಶಿವೇ
ಚರಣಂ
ಸಂಕಲ್ಪ ವಿಕಲ್ಪಾತ್ಮಕ ಚಿತ್ತ ವೃತ್ತಿ ಜಾಲೇ
ಸಾಧು ಜನಾರಾಧಿತ ಸದ್ಗುರು ಕಟಾಕ್ಷ ಮೂಲೇ
ಸಂಕಟ ಹರ ಧುರೀಣ-ತರ ಗುರು ಗುಹಾನುಕೂಲೇ
ಸಮಸ್ತ ವಿಶ್ವೋತ್ಪತ್ತಿ ಸ್ಥಿತಿ ಲಯಾದಿ ಕಾಲೇ
(ಮಧ್ಯಮ ಕಾಲ ಸಾಹಿತ್ಯಂ)
ವಿಟಂಕ ತ್ಯಾಗರಾಜ ಮೋಹಿತ ವಿಚಿತ್ರ ಲೀಲೇ
ಶಂಕರಿ ಕೃಪಾಲವಾಲೇ ಹಾಟಕ-ಮಯ ಚೇಲೇ
ಪಂಕಜ ನಯನ ವಿಶಾಲೇ ಪದ್ಮ ರಾಗ ಮಣಿ ಮಾಲೇ
ಶಂಕರ ಸನ್ನುತ ಬಾಲೇ ಶಾರದೇ ಗಾನ ಲೋಲೇ
.
पल्लवि
श्री नीलोत्पल नायिके जगदम्बिके
श्री नगर नायिके मामव वर दायिके
अनुपल्लवि
दीन जनार्ति प्रभञ्जन रीति गौरवे
देशिक प्रदर्शित चिद्रूपिणि नत भैरवे
(मध्यम काल साहित्यम्)
आनन्दात्मानुभवे अद्रि राज समुद्भवे
सून शरारि वैभवे ज्ञान सुधार्णवे शिवे
चरणम्
सङ्कल्प विकल्पात्मक चित्त वृत्ति जाले
साधु जनाराधित सद्गुरु कटाक्ष मूले
सङ्कट हर धुरीण-तर गुरु गुहानुकूले
समस्त विश्वोत्पत्ति स्थिति लयादि काले
(मध्यम काल साहित्यम्)
विटङ्क त्यागराज मोहित विचित्र लीले
शङ्करि कृपालवाले हाटक-मय चेले
पङ्कज नयन विशाले पद्म राग मणि माले
शङ्कर सन्नुत बाले शारदे गान लोले
.
pallavi
SrI nIlOtpala nAyikE jagadambikE
SrI nagara nAyikE mAmava vara dAyikE
anupallavi
dIna janArti prabhanjana rIti gauravE
dESika pradarSita cidrUpiNi nata bhairavE
(madhyama kAla sAhityam)
AnandAtmAnubhavE adri rAja samudbhavE
sUna SarAri vaibhavE jnAna sudhArNavE SivE
caraNam
sankalpa vikalpAtmaka citta vRtti jAlE
sAdhu janArAdhita sadguru kaTAksha mUlE
sankaTa hara dhurINa-tara guru guhAnukUlE
samasta viSvOtpatti sthiti layAdi kAlE
(madhyama kAla sAhityam)
viTanka tyAgarAja mOhita vicitra lIlE
Sankari kRpAlavAlE hATaka-maya cElE
pankaja nayana viSAlE padma rAga maNi mAlE
Sankara sannuta bAlE SAradE gAna lOlE
.
പല്ലവി
ശ്രീ നീലോത്പല നായികേ ജഗദമ്ബികേ
ശ്രീ നഗര നായികേ മാമവ വര ദായികേ
അനുപല്ലവി
ദീന ജനാര്തി പ്രഭഞ്ജന രീതി ഗൌരവേ
ദേശിക പ്രദര്ശിത ചിദ്രൂപിണി നത ഭൈരവേ
(മധ്യമ കാല സാഹിത്യമ്)
ആനന്ദാത്മാനുഭവേ അദ്രി രാജ സമുദ്ഭവേ
സൂന ശരാരി വൈഭവേ ജ്ഞാന സുധാര്ണവേ ശിവേ
ചരണമ്
സങ്കല്പ വികല്പാത്മക ചിത്ത വൃത്തി ജാലേ
സാധു ജനാരാധിത സദ്ഗുരു കടാക്ഷ മൂലേ
സങ്കട ഹര ധുരീണ-തര ഗുരു ഗുഹാനുകൂലേ
സമസ്ത വിശ്വോത്പത്തി സ്ഥിതി ലയാദി കാലേ
(മധ്യമ കാല സാഹിത്യമ്)
വിടങ്ക ത്യാഗരാജ മോഹിത വിചിത്ര ലീലേ
ശങ്കരി കൃപാലവാലേ ഹാടക-മയ ചേലേ
പങ്കജ നയന വിശാലേ പദ്മ രാഗ മണി മാലേ
ശങ്കര സന്നുത ബാലേ ശാരദേ ഗാന ലോലേ
.
Pallavi
Protect me O Goddess Nilotpalamba. Mother of the Universe! Suzerain of Srinagara (Tiruvarur)! Giver of boons!
Anupallavi
The one who is honoured as the expert in vanquishing the afflictions of the weak! The form of consciousness as revealed by preceptors! The one who is worshipped by Bhairava! The one who experiences supreme bliss! The daughter of the mountain! The one who is the glory of Siva, the enemy of Cupid! The Ocean of Knowledge!
Charanam
The one who embodies the mind which is decisive and indecisive! The one who is worshipped by Sages! The core of the grace that emanates from preceptors! the one who is favourably disposed towards Subrahmanya who alleviates sorrows and destroys afflictions! The passage of time that creates, protects and destroys all Creation! The one who sports to the delight of the divine dancer Tyagaraja! The benevolent one! The embodiment of compassion! One who wears golden raiment! one with the large lotus like eyes! one who wears necklaces of white stones! Youthful one who is worshipped by Siva! O Sarada! O Lover of Music!
.