Composer: Muttukumaraswamy (முத்துகுமாரச்வாமி) popularly known as Muthuswamy Dikshithar (முத்துஸ்வாமி தீக்ஷிதர் – ముత్తుస్వామీ డిక్షితర్), (March 24, 1775 – October 21, 1835) was born in Tiruvarur (of Thanjavur district of Tamil Nadu) to a Tamil Iyer Brahmin couple Ramaswami Dikshitar and Subbamma, as the eldest son. He also had two younger brothers Baluswami, Chinnaswami and a sister Balambal.Chidambaranatha Yogi was his guru. More…

Raagam: Kedaaram
Taalam: MiSra Caapu
Diety: Nilotpalamba vibhakti Krithis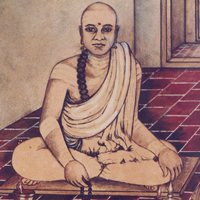 .
Recitals
Album: Unknown | Voice: Sanjay Subramaniam
Album: Unknown | Voice: D.K.Jayaraman
Album: Unknown | Voice: M.D.Ramanathan

Awaiting Contributions.

We believe this kriti was originally composed in sanskrit. Other languages are for your convenience.
పల్లవి
ఆనంద నటన ప్రకాశం చిత్సభేశం
ఆశ్రయామి శివ కామ వల్లీశమ్
అనుపల్లవి
భాను కోటి కోటి సంకాశం
భుక్తి ముక్తి ప్రద దహరాకాశమ్
దీన జన సంరక్షణ చణం
(మధ్యమ కాల సాహిత్యమ్)
దివ్య పతంజలి వ్యాఘ్ర పాద-
దర్శిత కుంచితాబ్జ చరణమ్
చరణము
శీతాంశు గంగా ధరం నీల కంధరం
శ్రీ కేదారాది క్షేత్రాధారమ్
భూతేశం శార్దూల చర్మాంబరం చిదంబరం
భూ-సుర త్రి-సహస్ర మునీశ్వరం విశ్వేశ్వరమ్
నవనీత హృదయం సదయ గురు గుహ తాతం
ఆద్యం వేద వేద్యం వీత రాగిణం
అప్రమేయాద్వైత ప్రతిపాద్యం
సంగీత వాద్య వినోద తాండవ –
జాత బహు-తర భేద చోద్యమ్
Variations
భుక్తి – భక్తి
కుంచిత – కుంజిత
గురు గుహ తాతం – గురు గుహం
.
பல்லவி
ஆனந்த3 நடன ப்ரகாஸ1ம் சித்ஸபே4ஸ1ம்
ஆஸ்1ரயாமி ஸி1வ காம வல்லீஸ1ம்
அனுபல்லவி
பா4னு கோடி கோடி ஸங்காஸ1ம்
பு4க்தி முக்தி ப்ரத3 த3ஹராகாஸ1ம்
தீ3ன ஜன ஸம்ரக்ஷண சணம்
(மத்4யம கால ஸாஹித்யம்)
தி3வ்ய பதஞ்ஜலி வ்யாக்4ர பாத3-
த3ர்ஸி1த குஞ்சிதாப்3ஜ சரணம்
சரணம்
ஸீ1தாம்ஸு1 க3ங்கா3 த4ரம் நீல கந்த4ரம்
ஸ்1ரீ கேதா3ராதி3 க்ஷேத்ராதா4ரம்
பூ4தேஸ1ம் ஸா1ர்தூ3ல சர்மாம்ப3ரம் சித3ம்ப3ரம்
பூ4-ஸுர த்ரி-ஸஹஸ்ர முனீஸ்1வரம் விஸ்1வேஸ்1வரம்
நவனீத ஹ்ரு2த3யம் ஸத3ய கு3ரு கு3ஹ தாதம்
ஆத்3யம் வேத3 வேத்3யம் வீத ராகி3ணம்
அப்ரமேயாத்3வைத ப்ரதிபாத்3யம்
ஸங்கீ3த வாத்3ய வினோத3 தாண்ட3வ –
ஜாத ப3ஹு-தர பே4த3 சோத்3யம்
Variations
பு4க்தி – ப4க்தி
குஞ்சித – குஞ்ஜித
கு3ரு கு3ஹ தாதம் – கு3ரு கு3ஹம்
.
ಪಲ್ಲವಿ
ಆನಂದ ನಟನ ಪ್ರಕಾಶಂ ಚಿತ್ಸಭೇಶಂ
ಆಶ್ರಯಾಮಿ ಶಿವ ಕಾಮ ವಲ್ಲೀಶಮ್
ಅನುಪಲ್ಲವಿ
ಭಾನು ಕೋಟಿ ಕೋಟಿ ಸಂಕಾಶಂ
ಭುಕ್ತಿ ಮುಕ್ತಿ ಪ್ರದ ದಹರಾಕಾಶಮ್
ದೀನ ಜನ ಸಂರಕ್ಷಣ ಚಣಂ
(ಮಧ್ಯಮ ಕಾಲ ಸಾಹಿತ್ಯಮ್)
ದಿವ್ಯ ಪತಂಜಲಿ ವ್ಯಾಘ್ರ ಪಾದ-
ದರ್ಶಿತ ಕುಂಚಿತಾಬ್ಜ ಚರಣಮ್
ಚರಣಮ್
ಶೀತಾಂಶು ಗಂಗಾ ಧರಂ ನೀಲ ಕಂಧರಂ
ಶ್ರೀ ಕೇದಾರಾದಿ ಕ್ಷೇತ್ರಾಧಾರಮ್
ಭೂತೇಶಂ ಶಾರ್ದೂಲ ಚರ್ಮಾಂಬರಂ ಚಿದಂಬರಂ
ಭೂ-ಸುರ ತ್ರಿ-ಸಹಸ್ರ ಮುನೀಶ್ವರಂ ವಿಶ್ವೇಶ್ವರಮ್
ನವನೀತ ಹೃದಯಂ ಸದಯ ಗುರು ಗುಹ ತಾತಂ
ಆದ್ಯಂ ವೇದ ವೇದ್ಯಂ ವೀತ ರಾಗಿಣಂ
ಅಪ್ರಮೇಯಾದ್ವೈತ ಪ್ರತಿಪಾದ್ಯಂ
ಸಂಗೀತ ವಾದ್ಯ ವಿನೋದ ತಾಂಡವ –
ಜಾತ ಬಹು-ತರ ಭೇದ ಚೋದ್ಯಮ್
Variations
ಭುಕ್ತಿ – ಭಕ್ತಿ
ಕುಂಚಿತ – ಕುಂಜಿತ
ಗುರು ಗುಹ ತಾತಂ – ಗುರು ಗುಹಂ
.
पल्लवि
आनन्द नटन प्रकाशं चित्सभेशं
आश्रयामि शिव काम वल्लीशम्
अनुपल्लवि
भानु कोटि कोटि संकाशं
भुक्ति मुक्ति प्रद दहराकाशम्
दीन जन संरक्षण चणं
(मध्यम काल साहित्यम्)
दिव्य पतञ्जलि व्याघ्र पाद-
दर्शित कुञ्चिताब्ज चरणम्
चरणम्
शीतांशु गङ्गा धरं नील कन्धरं
श्री केदारादि क्षेत्राधारम्
भूतेशं शार्दूल चर्माम्बरं चिदम्बरं
भू-सुर त्रि-सहस्र मुनीश्वरं विश्वेश्वरम्
नवनीत हृदयं सदय गुरु गुह तातं
आद्यं वेद वेद्यं वीत रागिणं
अप्रमेयाद्वैत प्रतिपाद्यं
सङ्गीत वाद्य विनोद ताण्डव –
जात बहु-तर भेद चोद्यम्
Variations
भुक्ति – भक्ति
कुञ्चित – कुञ्जित
गुरु गुह तातं – गुरु गुहं
.
pallavi
Ananda naTana prakASaM citsabhESaM
ASrayAmi Siva kAma vallISam
anupallavi
bhAnu kOTi kOTi saMkASaM
bhukti mukti prada daharAkASam
dIna jana saMrakshaNa caNaM
(madhyama kAla sAhityam)
divya patanjali vyAghra pAda-
darSita kuncitAbja caraNam
caraNam
SItAMSu gangA dharaM nIla kandharaM
SrI kEdArAdi kshEtrAdhAram
bhUtESaM SArdUla carmAmbaraM cidambaraM
bhU-sura tri-sahasra munISvaraM viSvESvaram
navanIta hRdayaM sadaya guru guha tAtaM
AdyaM vEda vEdyaM vIta rAgiNaM
apramEyAdvaita pratipAdyaM
sangIta vAdya vinOda tANDava –
jAta bahu-tara bhEda cOdyam
Variations
bhukti – bhakti
kuncita – kunjita
guru guha tAtaM – guru guhaM
.
പല്ലവി
ആനന്ദ നടന പ്രകാശം ചിത്സഭേശം
ആശ്രയാമി ശിവ കാമ വല്ലീശമ്
അനുപല്ലവി
ഭാനു കോടി കോടി സങ്കാശം
ഭുക്തി മുക്തി പ്രദ ദഹരാകാശമ്
ദീന ജന സംരക്ഷണ ചണം
(മധ്യമ കാല സാഹിത്യമ്)
ദിവ്യ പതഞ്ജലി വ്യാഘ്ര പാദ-
ദര്ശിത കുഞ്ചിതാബ്ജ ചരണമ്
ചരണമ്
ശീതാംശു ഗങ്ഗാ ധരം നീല കന്ധരം
ശ്രീ കേദാരാദി ക്ഷേത്രാധാരമ്
ഭൂതേശം ശാര്ദൂല ചര്മാമ്ബരം ചിദമ്ബരം
ഭൂ-സുര ത്രി-സഹസ്ര മുനീശ്വരം വിശ്വേശ്വരമ്
നവനീത ഹൃദയം സദയ ഗുരു ഗുഹ താതം
ആദ്യം വേദ വേദ്യം വീത രാഗിണം
അപ്രമേയാദ്വൈത പ്രതിപാദ്യം
സങ്ഗീത വാദ്യ വിനോദ താണ്ഡവ –
ജാത ബഹു-തര ഭേദ ചോദ്യമ്
Variations
ഭുക്തി – ഭക്തി
കുഞ്ചിത – കുഞ്ജിത
ഗുരു ഗുഹ താതം – ഗുരു ഗുഹം
.
Pallavi
I worship the lord of citsabha, the one who displays the blissful dance.
Anupallavi
The one who shines like crores and crores of suns. The form of that is worshipped in the dahara akasha or the space within one's heart
akasha and one who bestows enjoyment and liberation. The one skilled in protecting the weak. The one who showed his lotus-feet to the holy devotees Patanjali and vyagrapada.
Charanam
The one who wears the cool-rayed moon. The one whose neck is blue; the origin of kshetras beginning with kedara. The lord of the bhootas, the one who wears the tiger-skin, the one who dwells in cidambaram, the one worshipped by the 3000 dikshitas, the Lord of the universe, the one whose heart melts like butter, the one who is the father of the merciful Guruguha, the one who is known by the vedas, the one devoid of desires, the immeasurable one who is explained by advaita or monism,the one whose music, instruments and various postures of dance answers many questions.
.