Composer: Sri Tallapaka Annamacharya (Annamayya అన్నమయ్య) , May 9, 1408 – February 23, 1503 was born to Narayana Suri and Lakkamamba in Tallapaka, a village in current day Kadapa district of Andhra Pradesh. More….
Keerthana No. 18
Copper Sheet No. 3
Pallavi: Teliyaa cheekatiki (తెలియా చీకటికి)
Ragam: Gundakriya
Language: Telugu (తెలుగు)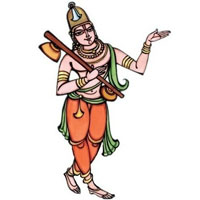 Recitals
Awaiting Contributions.
…
Awaiting Contributions.
[audio: audio-instrumental-file-name.mp3].
This Kriti was originally composed in Telugu. Other languages are for your convenience.
Pallavi
|| తెలియా చీకటికి దీపమెతక
పెద్ద వెలుగులోపలికి వెలుగేలా ||
Charanams
|| అరయా ఆపన్నునికి అభయ మీవలెగాక
ఇరవైనసుఖినీ కావనేల
వరదా బోయనివాని వడి దీయవలెగాక
దరివాని తివియంగ తానేలా ||
|| ఘనఖర్మారంభుని కట్లు విదవలె గాక
యొనసి ముక్తూని కవనేలా
అనయమూ దుర్బలునికి అన్నా మిడవలెగాక
తనిసినా వానికి తానేలా ||
|| మితిలేని పాప కర్మికి తావలెగాక
హితబెరుగు పున్యునికి తానేలా
ధ్రుతిహీను క్రుపజూచి తిరువేంకటేశ్వరుడు
తతి గావకుండిన తానేలా ||
.
Pallavi
|| teliyaa cheekaTiki deepametaka
pedda velugulOpaliki velugElaa ||
Charanams
|| arayaa aapannuniki aBhaya meevalegaaka
iravainasukhinii kaavaneala
varadaa boeyanivaani vaDi deeyavalegaaka
darivaani tiviyanga taanealaa ||
|| ghanakharmaarambhuni kaTlu vidavale gaaka
yonasi muktuuni kavanElaa
anayamuu durbaluniki annaa miDavalegaaka
tanisinaa vaaniki taanElaa ||
|| mitilEni paapa karmiki taavalegaaka
hitaberugu punyuniki taanElaa
dhrutiheenu krupajooci tiruvEnkaTESwaruDu
tati gaavakunDina taanElaa ||
.

We will update this page , once we find comprehensive meaning. Feel free to contribute if you know.
.