Composer: Muttukumaraswamy (முத்துகுமாரச்வாமி) popularly known as Muthuswamy Dikshithar (முத்துஸ்வாமி தீக்ஷிதர் – ముత్తుస్వామీ డిక్షితర్), (March 24, 1775 – October 21, 1835) was born in Tiruvarur (of Thanjavur district of Tamil Nadu) to a Tamil Iyer Brahmin couple Ramaswami Dikshitar and Subbamma, as the eldest son. He also had two younger brothers Baluswami, Chinnaswami and a sister Balambal.Chidambaranatha Yogi was his guru. More…

Raagam: Darbar
Taalam: Adi
Diety: Tiruvarur – Thyagaraja vibhakti Krithis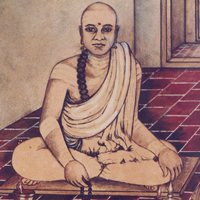 .
Recitals
Album: Unknown | Voice: Neela Ramgopal

Awaiting Contributions.

We believe this kriti was originally composed in sanskrit. Other languages are for your convenience.
పల్లవి
త్యాగరాజాదన్యం న జానే
గురు గుహాది సమస్త దేవతా స్వరూపిణఃశ్రీ
అనుపల్లవి
రాగాది వృత్తి రహిత స్వానుభోగానంద స్ఫూర్తి విశేషాత్ –
(మధ్యమ కాల సాహిత్యమ్)
భూ గంధ-వాహ వహ్ని జల గగన పుష్పవద్యజ్వ-మయ మూర్తేఃశ్రీ
చరణము
సత్త్వ రజస్తమో గుణాతీత సత్య జ్ఞానానంద రూపిణో
ద్విత్వాది భేద కర్తన పరమాద్వైత స్వాత్మానంద రూపిణో
త్రిత్వ పరిచ్ఛేద రాహిత్య త్రై-పద పరమాద్వైత రూపిణో
తత్త్వం పదార్థ శోధన శేషిత తత్పద లక్ష్యార్థ స్వరూపిణో
(మధ్యమ కాల సాహిత్యమ్)
తత్వ సమష్టి వ్యష్టి రూప లయ తారక బ్రహ్మ రూపాత్మనో
తత్వం స్వాతిరిక్తాసహన తత్సక్తమాన రూపాత్మనఃశ్రీ
variations
విశేషాత్ – విశేష
జ్ఞానానంద రూపిణో – జ్ఞానానంద స్వరూపిణో
భేద కర్తన – భేద మర్దన – భేదన కర్తన
స్వాతిరిక్తాసహన – స్వాతిరిక్తసహన
తత్సక్తమాన – తత్సక్తనామ
.
பல்லவி
த்யாக3ராஜாத3ன்யம் ந ஜானே
கு3ரு கு3ஹாதி3 ஸமஸ்த தே3வதா ஸ்வரூபிண:ஸ்ரீ
அனுபல்லவி
ராகா3தி3 வ்ரு2த்தி ரஹித ஸ்வானுபோ4கா3னந்த3 ஸ்பூ2ர்தி விஸே1ஷாத் –
(மத்4யம கால ஸாஹித்யம்)
பூ4 க3ந்த4-வாஹ வஹ்னி ஜல க3க3ன புஷ்பவத்3யஜ்வ-மய மூர்தே:ஸ்ரீ
சரணம்
ஸத்வ ரஜஸ்தமோ கு3ணாதீத ஸத்ய ஞானானந்த3 ரூபிணோ
த்3வித்வாதி3 பே4த3 கர்தன பரமாத்3வைத ஸ்வாத்மானந்த3 ரூபிணோ
த்ரித்வ பரிச்சே2த3 ராஹித்ய த்ரை-பத3 பரமாத்3வைத ரூபிணோ
தத்த்வம் பதா3ர்த2 ஸோ1த4ன ஸே1ஷித தத்பத3 லக்ஷ்யார்த2 ஸ்வரூபிணோ
(மத்4யம கால ஸாஹித்யம்)
தத்வ ஸமஷ்டி வ்யஷ்டி ரூப லய தாரக ப்3ரஹ்ம ரூபாத்மனோ
தத்வம் ஸ்வாதிரிக்தாஸஹன தத்ஸக்தமான ரூபாத்மன:ஸ்ரீ
variations
விஸே1ஷாத் – விஸே1ஷ
ஞானானந்த3 ரூபிணோ – ஞானானந்த3 ஸ்வரூபிணோ
பே4த3 கர்தன – பே4த3 மர்த3ன – பே4த3ன கர்தன
ஸ்வாதிரிக்தாஸஹன – ஸ்வாதிரிக்தஸஹன
தத்ஸக்தமான – தத்ஸக்தனாம
.
ಪಲ್ಲವಿ
ತ್ಯಾಗರಾಜಾದನ್ಯಂ ನ ಜಾನೇ
ಗುರು ಗುಹಾದಿ ಸಮಸ್ತ ದೇವತಾ ಸ್ವರೂಪಿಣಃಶ್ರೀ
ಅನುಪಲ್ಲವಿ
ರಾಗಾದಿ ವೃತ್ತಿ ರಹಿತ ಸ್ವಾನುಭೋಗಾನಂದ ಸ್ಫೂರ್ತಿ ವಿಶೇಷಾತ್ –
(ಮಧ್ಯಮ ಕಾಲ ಸಾಹಿತ್ಯಮ್)
ಭೂ ಗಂಧ-ವಾಹ ವಹ್ನಿ ಜಲ ಗಗನ ಪುಷ್ಪವದ್ಯಜ್ವ-ಮಯ ಮೂರ್ತೇಃಶ್ರೀ
ಚರಣಮ್
ಸತ್ತ್ವ ರಜಸ್ತಮೋ ಗುಣಾತೀತ ಸತ್ಯ ಜ್ಞಾನಾನಂದ ರೂಪಿಣೋ
ದ್ವಿತ್ವಾದಿ ಭೇದ ಕರ್ತನ ಪರಮಾದ್ವೈತ ಸ್ವಾತ್ಮಾನಂದ ರೂಪಿಣೋ
ತ್ರಿತ್ವ ಪರಿಚ್ಛೇದ ರಾಹಿತ್ಯ ತ್ರೈ-ಪದ ಪರಮಾದ್ವೈತ ರೂಪಿಣೋ
ತತ್ತ್ವಂ ಪದಾರ್ಥ ಶೋಧನ ಶೇಷಿತ ತತ್ಪದ ಲಕ್ಷ್ಯಾರ್ಥ ಸ್ವರೂಪಿಣೋ
(ಮಧ್ಯಮ ಕಾಲ ಸಾಹಿತ್ಯಮ್)
ತತ್ವ ಸಮಷ್ಟಿ ವ್ಯಷ್ಟಿ ರೂಪ ಲಯ ತಾರಕ ಬ್ರಹ್ಮ ರೂಪಾತ್ಮನೋ
ತತ್ವಂ ಸ್ವಾತಿರಿಕ್ತಾಸಹನ ತತ್ಸಕ್ತಮಾನ ರೂಪಾತ್ಮನಃಶ್ರೀ
variations
ವಿಶೇಷಾತ್ – ವಿಶೇಷ
ಜ್ಞಾನಾನಂದ ರೂಪಿಣೋ – ಜ್ಞಾನಾನಂದ ಸ್ವರೂಪಿಣೋ
ಭೇದ ಕರ್ತನ – ಭೇದ ಮರ್ದನ – ಭೇದನ ಕರ್ತನ
ಸ್ವಾತಿರಿಕ್ತಾಸಹನ – ಸ್ವಾತಿರಿಕ್ತಸಹನ
ತತ್ಸಕ್ತಮಾನ – ತತ್ಸಕ್ತನಾಮ
.
पल्लवि
त्यागराजादन्यं न जाने
गुरु गुहादि समस्त देवता स्वरूपिणःश्री
अनुपल्लवि
रागादि वृत्ति रहित स्वानुभोगानन्द स्फूर्ति विशेषात् –
(मध्यम काल साहित्यम्)
भू गन्ध-वाह वह्नि जल गगन पुष्पवद्यज्व-मय मूर्तेःश्री
चरणम्
सत्त्व रजस्तमो गुणातीत सत्य ज्ञानानन्द रूपिणो
द्वित्वादि भेद कर्तन परमाद्वैत स्वात्मानन्द रूपिणो
त्रित्व परिच्छेद राहित्य त्रै-पद परमाद्वैत रूपिणो
तत्त्वं पदार्थ शोधन शेषित तत्पद लक्ष्यार्थ स्वरूपिणो
(मध्यम काल साहित्यम्)
तत्व समष्टि व्यष्टि रूप लय तारक ब्रह्म रूपात्मनो
तत्वं स्वातिरिक्तासहन तत्सक्तमान रूपात्मनःश्री
variations
विशेषात् – विशेष
ज्ञानानन्द रूपिणो – ज्ञानानन्द स्वरूपिणो
भेद कर्तन – भेद मर्दन – भेदन कर्तन
स्वातिरिक्तासहन – स्वातिरिक्तसहन
तत्सक्तमान – तत्सक्तनाम
.
pallavi
tyAgarAjAdanyaM na jAnE
guru guhAdi samasta dEvatA svarUpiNaHSrI
anupallavi
rAgAdi vRtti rahita svAnubhOgAnanda sphUrti viSEshAt –
(madhyama kAla sAhityam)
bhU gandha-vAha vahni jala gagana pushpavadyajva-maya mUrtEHSrI
caraNam
sattva rajastamO guNAtIta satya jnAnAnanda rUpiNO
dvitvAdi bhEda kartana paramAdvaita svAtmAnanda rUpiNO
tritva paricchEda rAhitya trai-pada paramAdvaita rUpiNO
tattvaM padArtha SOdhana SEshita tatpada lakshyArtha svarUpiNO
(madhyama kAla sAhityam)
tatva samashTi vyashTi rUpa laya tAraka brahma rUpAtmanO
tatvaM svAtiriktAsahana tatsaktamAna rUpAtmanaHSrI
variations
viSEshAt – viSEsha
jnAnAnanda rUpiNO – jnAnAnanda svarUpiNO
bhEda kartana – bhEda mardana – bhEdana kartana
svAtiriktAsahana – svAtiriktasahana
tatsaktamAna – tatsaktanAma
.
പല്ലവി
ത്യാഗരാജാദന്യം ന ജാനേ
ഗുരു ഗുഹാദി സമസ്ത ദേവതാ സ്വരൂപിണഃശ്രീ
അനുപല്ലവി
രാഗാദി വൃത്തി രഹിത സ്വാനുഭോഗാനന്ദ സ്ഫൂര്തി വിശേഷാത് –
(മധ്യമ കാല സാഹിത്യമ്)
ഭൂ ഗന്ധ-വാഹ വഹ്നി ജല ഗഗന പുഷ്പവദ്യജ്വ-മയ മൂര്തേഃശ്രീ
ചരണമ്
സത്ത്വ രജസ്തമോ ഗുണാതീത സത്യ ജ്ഞാനാനന്ദ രൂപിണോ
ദ്വിത്വാദി ഭേദ കര്തന പരമാദ്വൈത സ്വാത്മാനന്ദ രൂപിണോ
ത്രിത്വ പരിച്ഛേദ രാഹിത്യ ത്രൈ-പദ പരമാദ്വൈത രൂപിണോ
തത്ത്വം പദാര്ഥ ശോധന ശേഷിത തത്പദ ലക്ഷ്യാര്ഥ സ്വരൂപിണോ
(മധ്യമ കാല സാഹിത്യമ്)
തത്വ സമഷ്ടി വ്യഷ്ടി രൂപ ലയ താരക ബ്രഹ്മ രൂപാത്മനോ
തത്വം സ്വാതിരിക്താസഹന തത്സക്തമാന രൂപാത്മനഃശ്രീ
variations
വിശേഷാത് – വിശേഷ
ജ്ഞാനാനന്ദ രൂപിണോ – ജ്ഞാനാനന്ദ സ്വരൂപിണോ
ഭേദ കര്തന – ഭേദ മര്ദന – ഭേദന കര്തന
സ്വാതിരിക്താസഹന – സ്വാതിരിക്തസഹന
തത്സക്തമാന – തത്സക്തനാമ
.
Pallavi
I do not know anyone other than Tyagaraja, who is of the form of all gods beginning with Lord Shanmukha.
Anupallavi
He is devoid of desire. He is absorbed in himself. He is of the form of the aShTamUrti ie earth, wind,fire, water, space, the sun and the moon and the sacrificer.
Charanam
He transcends the three Gunas, i.e. Satva, Rajas, and Tamas. He who is of the form of pure consciousness.He creates duality though he is truly one.
He is beyond the triad of the knower, the knowledge and the knowing. He knows the three words tat tvam asi which is the supreme advaitic precept.
He is verily the 'that' when one analyzes the tat tvam principle.He is of the form of the 36 tattvas, the samaShti and vyaShTi forms
.