Composer: Muttukumaraswamy (முத்துகுமாரச்வாமி) popularly known as Muthuswamy Dikshithar (முத்துஸ்வாமி தீக்ஷிதர் – ముత్తుస్వామీ డిక్షితర్), (March 24, 1775 – October 21, 1835) was born in Tiruvarur (of Thanjavur district of Tamil Nadu) to a Tamil Iyer Brahmin couple Ramaswami Dikshitar and Subbamma, as the eldest son. He also had two younger brothers Baluswami, Chinnaswami and a sister Balambal.Chidambaranatha Yogi was his guru. More…

Raagam: Athana
Taalam: Rupakam
Diety: Tiruvarur – Thyagaraja vibhakti Krithis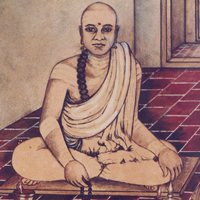 .
Recitals
Album: Unknown | Voice: T.N.Seshagopalan

Awaiting Contributions.

We believe this kriti was originally composed in sanskrit. Other languages are for your convenience.
పల్లవి
త్యాగరాజో విరాజతే మహారాజ శ్రీ
త్యాగరాజో విరాజతే శ్రీమత్
అనుపల్లవి
వాగర్థ-మయ భువన రాజో
హరి వాంఛితార్థ ప్రద రాజో
హర శ్రీ గురు గుహ గణేశ రాజో
సంసేవిత రాజాధి-రాజో అజో
(మధ్యమ కాల సాహిత్యమ్)
నాగర ఖండాఖ్య పురాణ ప్రతిపాదిత రాజో
యోగినీ గణ రాజో యోగిరాజ రాజఃశ్రీ
చరణమ్
కలి రాహిత్య నగర వాసో
నీలోత్పల నాయికా సహ-వాసో
అతి లలిత హంస లాస్యోల్లాసో
అఖిలాగమ శిరో-నుత విలాసో
అతి విలసిత హాటకావభాసో
అనేక లీలా విచిత్ర వికాసో
రక్తోత్పల కుసుమాది విశ్వాసో
పరిపాలిత హరి హయాది దాసో
(మధ్యమ కాల సాహిత్యమ్)
నిర్మల హృదయ రాజ హంసో మహా పరమ హంసో
నిశ్చల తత్వ ప్రశంసః శశి కలావతంసఃశ్రీ
variations
మహారాజ – మహారాజ రాజ
హర శ్రీ గురు గుహ – శ్రీ గురు గుహ
గణేశ రాజో – గణ రాజ
అఖిలాగమ – నిఖిలాగమ
విశ్వాసో – విశ్వాసః
.
பல்லவி
த்யாக3ராஜோ விராஜதே மஹாராஜ ஸ்ரீ
த்யாக3ராஜோ விராஜதே ஸ்ரீமத்
அனுபல்லவி
வாக3ர்த2-மய பு4வன ராஜோ
ஹரி வாஞ்சி2தார்த2 ப்ரத3 ராஜோ
ஹர ஸ்ரீ கு3ரு கு3ஹ க3ணேஸ1 ராஜோ
ஸம்ஸேவித ராஜாதி4-ராஜோ அஜோ
(மத்4யம கால ஸாஹித்யம்)
நாக3ர க2ண்டா3க்2ய புராண ப்ரதிபாதி3த ராஜோ
யோகி3னீ க3ண ராஜோ யோகி3ராஜ ராஜ:ஸ்ரீ
சரணம்
கலி ராஹித்ய நக3ர வாஸோ
நீலோத்பல நாயிகா ஸஹ-வாஸோ
அதி லலித ஹம்ஸ லாஸ்யோல்லாஸோ
அகி2லாக3ம ஸி1ரோ-நுத விலாஸோ
அதி விலஸித ஹாடகாவபா4ஸோ
அனேக லீலா விசித்ர விகாஸோ
ரக்தோத்பல குஸுமாதி3 விஸ்1வாஸோ
பரிபாலித ஹரி ஹயாதி3 தா3ஸோ
(மத்4யம கால ஸாஹித்யம்)
நிர்மல ஹ்ரு2த3ய ராஜ ஹம்ஸோ மஹா பரம ஹம்ஸோ
நிஸ்1சல தத்வ ப்ரஸ1ம்ஸ: ஸ1ஸி1 கலாவதம்ஸ:ஸ்ரீ
variations
மஹாராஜ – மஹாராஜ ராஜ
ஹர ஸ்ரீ கு3ரு கு3ஹ – ஸ்ரீ கு3ரு கு3ஹ
க3ணேஸ1 ராஜோ – க3ண ராஜ
அகி2லாக3ம – நிகி2லாக3ம
விஸ்1வாஸோ – விஸ்1வாஸ:
.
ಪಲ್ಲವಿ
ತ್ಯಾಗರಾಜೋ ವಿರಾಜತೇ ಮಹಾರಾಜ ಶ್ರೀ
ತ್ಯಾಗರಾಜೋ ವಿರಾಜತೇ ಶ್ರೀಮತ್
ಅನುಪಲ್ಲವಿ
ವಾಗರ್ಥ-ಮಯ ಭುವನ ರಾಜೋ
ಹರಿ ವಾಂಛಿತಾರ್ಥ ಪ್ರದ ರಾಜೋ
ಹರ ಶ್ರೀ ಗುರು ಗುಹ ಗಣೇಶ ರಾಜೋ
ಸಂಸೇವಿತ ರಾಜಾಧಿ-ರಾಜೋ ಅಜೋ
(ಮಧ್ಯಮ ಕಾಲ ಸಾಹಿತ್ಯಮ್)
ನಾಗರ ಖಂಡಾಖ್ಯ ಪುರಾಣ ಪ್ರತಿಪಾದಿತ ರಾಜೋ
ಯೋಗಿನೀ ಗಣ ರಾಜೋ ಯೋಗಿರಾಜ ರಾಜಃಶ್ರೀ
ಚರಣಮ್
ಕಲಿ ರಾಹಿತ್ಯ ನಗರ ವಾಸೋ
ನೀಲೋತ್ಪಲ ನಾಯಿಕಾ ಸಹ-ವಾಸೋ
ಅತಿ ಲಲಿತ ಹಂಸ ಲಾಸ್ಯೋಲ್ಲಾಸೋ
ಅಖಿಲಾಗಮ ಶಿರೋ-ನುತ ವಿಲಾಸೋ
ಅತಿ ವಿಲಸಿತ ಹಾಟಕಾವಭಾಸೋ
ಅನೇಕ ಲೀಲಾ ವಿಚಿತ್ರ ವಿಕಾಸೋ
ರಕ್ತೋತ್ಪಲ ಕುಸುಮಾದಿ ವಿಶ್ವಾಸೋ
ಪರಿಪಾಲಿತ ಹರಿ ಹಯಾದಿ ದಾಸೋ
(ಮಧ್ಯಮ ಕಾಲ ಸಾಹಿತ್ಯಮ್)
ನಿರ್ಮಲ ಹೃದಯ ರಾಜ ಹಂಸೋ ಮಹಾ ಪರಮ ಹಂಸೋ
ನಿಶ್ಚಲ ತತ್ವ ಪ್ರಶಂಸಃ ಶಶಿ ಕಲಾವತಂಸಃಶ್ರೀ
variations
ಮಹಾರಾಜ – ಮಹಾರಾಜ ರಾಜ
ಹರ ಶ್ರೀ ಗುರು ಗುಹ – ಶ್ರೀ ಗುರು ಗುಹ
ಗಣೇಶ ರಾಜೋ – ಗಣ ರಾಜ
ಅಖಿಲಾಗಮ – ನಿಖಿಲಾಗಮ
ವಿಶ್ವಾಸೋ – ವಿಶ್ವಾಸಃ
.
पल्लवि
त्यागराजो विराजते महाराज श्री
त्यागराजो विराजते श्रीमत्
अनुपल्लवि
वागर्थ-मय भुवन राजो
हरि वाञ्छितार्थ प्रद राजो
हर श्री गुरु गुह गणेश राजो
संसेवित राजाधि-राजो अजो
(मध्यम काल साहित्यम्)
नागर खण्डाख्य पुराण प्रतिपादित राजो
योगिनी गण राजो योगिराज राजःश्री
चरणम्
कलि राहित्य नगर वासो
नीलोत्पल नायिका सह-वासो
अति ललित हंस लास्योल्लासो
अखिलागम शिरो-नुत विलासो
अति विलसित हाटकावभासो
अनेक लीला विचित्र विकासो
रक्तोत्पल कुसुमादि विश्वासो
परिपालित हरि हयादि दासो
(मध्यम काल साहित्यम्)
निर्मल हृदय राज हंसो महा परम हंसो
निश्चल तत्व प्रशंसः शशि कलावतंसःश्री
variations
महाराज – महाराज राज
हर श्री गुरु गुह – श्री गुरु गुह
गणेश राजो – गण राज
अखिलागम – निखिलागम
विश्वासो – विश्वासः
.
pallavi
tyAgarAjO virAjatE mahArAja SrI
tyAgarAjO virAjatE SrImat
anupallavi
vAgartha-maya bhuvana rAjO
hari vAnchitArtha prada rAjO
hara SrI guru guha gaNESa rAjO
saMsEvita rAjAdhi-rAjO ajO
(madhyama kAla sAhityam)
nAgara khaNDAkhya purANa pratipAdita rAjO
yOginI gaNa rAjO yOgirAja rAjaHSrI
caraNam
kali rAhitya nagara vAsO
nIlOtpala nAyikA saha-vAsO
ati lalita haMsa lAsyOllAsO
akhilAgama SirO-nuta vilAsO
ati vilasita hATakAvabhAsO
anEka lIlA vicitra vikAsO
raktOtpala kusumAdi viSvAsO
paripAlita hari hayAdi dAsO
(madhyama kAla sAhityam)
nirmala hRdaya rAja haMsO mahA parama haMsO
niScala tatva praSaMsaH SaSi kalAvataMsaHSrI
variations
mahArAja – mahArAja rAja
hara SrI guru guha – SrI guru guha
gaNESa rAjO – gaNa rAja
akhilAgama – nikhilAgama
viSvAsO – viSvAsaH
.
പല്ലവി
ത്യാഗരാജോ വിരാജതേ മഹാരാജ ശ്രീ
ത്യാഗരാജോ വിരാജതേ ശ്രീമത്
അനുപല്ലവി
വാഗര്ഥ-മയ ഭുവന രാജോ
ഹരി വാഞ്ഛിതാര്ഥ പ്രദ രാജോ
ഹര ശ്രീ ഗുരു ഗുഹ ഗണേശ രാജോ
സംസേവിത രാജാധി-രാജോ അജോ
(മധ്യമ കാല സാഹിത്യമ്)
നാഗര ഖണ്ഡാഖ്യ പുരാണ പ്രതിപാദിത രാജോ
യോഗിനീ ഗണ രാജോ യോഗിരാജ രാജഃശ്രീ
ചരണമ്
കലി രാഹിത്യ നഗര വാസോ
നീലോത്പല നായികാ സഹ-വാസോ
അതി ലലിത ഹംസ ലാസ്യോല്ലാസോ
അഖിലാഗമ ശിരോ-നുത വിലാസോ
അതി വിലസിത ഹാടകാവഭാസോ
അനേക ലീലാ വിചിത്ര വികാസോ
രക്തോത്പല കുസുമാദി വിശ്വാസോ
പരിപാലിത ഹരി ഹയാദി ദാസോ
(മധ്യമ കാല സാഹിത്യമ്)
നിര്മല ഹൃദയ രാജ ഹംസോ മഹാ പരമ ഹംസോ
നിശ്ചല തത്വ പ്രശംസഃ ശശി കലാവതംസഃശ്രീ
variations
മഹാരാജ – മഹാരാജ രാജ
ഹര ശ്രീ ഗുരു ഗുഹ – ശ്രീ ഗുരു ഗുഹ
ഗണേശ രാജോ – ഗണ രാജ
അഖിലാഗമ – നിഖിലാഗമ
വിശ്വാസോ – വിശ്വാസഃ
.
Pallavi
yagaraja reigns supreme.The king of kings Tyagaraja reigns supreme.The revered Lord Tyagaraja reigns supreme.
Anupallavi
The one who is the Lord of this universe formed out of speech and meaning.The Lord who fulfilled Vishnu's desires.Shiva,the Lord of guruguha and Ganesha.The one worshipped by the king of kings.The birthless one.The one who is extolled in the nagarakhanda purana.The Lord of the yogini groups.The supreme among yogis.
Charanam
The one who dwells in the city free of the travails of kaliyuga.The one who is the consort of Nilotpalamba.The one who dances the subtle ajapa dance.The one who is upheld in all the agamas.The one who shines with a golden hue.The one who performed all the lilas.The one fond of the red utpala flowers.The one who protects Indra who surrendered unto him.The one who is like the king of the pure-hearted swans(hamsas or yogis) as the paramahamsa.The one who has the fame of being the nature of stillness.The one who bears the moon on his forehead.
.