Composer: Muttukumaraswamy (முத்துகுமாரச்வாமி) popularly known as Muthuswamy Dikshithar (முத்துஸ்வாமி தீக்ஷிதர் – ముత్తుస్వామీ డిక్షితర్), (March 24, 1775 – October 21, 1835) was born in Tiruvarur (of Thanjavur district of Tamil Nadu) to a Tamil Iyer Brahmin couple Ramaswami Dikshitar and Subbamma, as the eldest son. He also had two younger brothers Baluswami, Chinnaswami and a sister Balambal.Chidambaranatha Yogi was his guru. More…

Raagam: Nataabharanam
Taalam: Rupakam
Diety: Pancha bhoota sthala linga kritis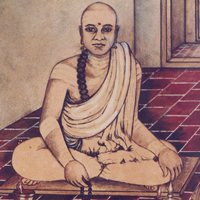 .
Recitals
Album: Unknown | Voice: Thiagarajan

Awaiting Contributions.

We believe this kriti was originally composed in sanskrit. Other languages are for your convenience.
పల్లవి
హాటకేశ్వర సంరక్ష మాం
తప్త హాటక-మయ లింగ మూర్తే త్రయాత్మక
అనుపల్లవి
పాటలీ పాదప మూల ప్రకాశ
పాతాల బిల హరి హయాద్యమర నుత
(మధ్యమ కాల సాహిత్యం)
హాటక క్షేత్ర నివాస హంస రూప చిద్విలాస
కోటి కోటి చిదాభాస గురు గుహ మానసోల్లాస
చరణము
దారుకా వనస్థ తపోధనాత్యుగ్ర –
తపఃప్రభావ సంభవ మూర్తే
మేరు శృంగ మధ్య స్థిత శ్రీ నగర –
విహార పరా శక్తి సహిత కీర్తే
మారుతి నంద్యర్జునాది –
భరతాచార్యైరవేదిత నర్తన స్ఫూర్తే
చారు స్మిత ముఖాంభోజ శశి ధర
సరసీరుహ పద విదలిత భక్తార్తే
(మధ్యమ కాల సాహిత్యం)
గౌరీ పతే పశు పతే గంగా ధర జగత్పతే
శౌరి వినుత భూత పతే శంకర కైలాస పతే
variations
పాదప – పాద
దారుకా వనస్థ – దారుకా వన
.
பல்லவி
ஹாடகேஸ்1வர ஸம்ரக்ஷ மாம்
தப்த ஹாடக-மய லிங்க3 மூர்தே த்ரயாத்மக
அனுபல்லவி
பாடலீ பாத3ப மூல ப்ரகாஸ1
பாதால பி3ல ஹரி ஹயாத்3யமர நுத
(மத்4யம கால ஸாஹித்யம்)
ஹாடக க்ஷேத்ர நிவாஸ ஹம்ஸ ரூப சித்3விலாஸ
கோடி கோடி சிதா3பா4ஸ கு3ரு கு3ஹ மானஸோல்லாஸ
சரணம்
தா3ருகா வனஸ்த2 தபோத4னாத்யுக்3ர –
தப:ப்ரபா4வ ஸம்ப4வ மூர்தே
மேரு ஸ்1ரு2ங்க3 மத்4ய ஸ்தி2த ஸ்ரீ நக3ர –
விஹார பரா ஸ1க்தி ஸஹித கீர்தே
மாருதி நந்த்3யர்ஜுனாதி3 –
ப4ரதாசார்யைரவேதி3த நர்தன ஸ்பூ2ர்தே
சாரு ஸ்மித முகா2ம்போ4ஜ ஸ1ஸி1 த4ர
ஸரஸீருஹ பத3 வித3லித ப4க்தார்தே
(மத்4யம கால ஸாஹித்யம்)
கௌ3ரீ பதே பஸு1 பதே க3ங்கா3 த4ர ஜக3த்பதே
ஸௌ1ரி வினுத பூ4த பதே ஸ1ங்கர கைலாஸ பதே
variations
பாத3ப – பாத3
தா3ருகா வனஸ்த2 – தா3ருகா வன
.
ಪಲ್ಲವಿ
ಹಾಟಕೇಶ್ವರ ಸಂರಕ್ಷ ಮಾಂ
ತಪ್ತ ಹಾಟಕ-ಮಯ ಲಿಂಗ ಮೂರ್ತೇ ತ್ರಯಾತ್ಮಕ
ಅನುಪಲ್ಲವಿ
ಪಾಟಲೀ ಪಾದಪ ಮೂಲ ಪ್ರಕಾಶ
ಪಾತಾಲ ಬಿಲ ಹರಿ ಹಯಾದ್ಯಮರ ನುತ
(ಮಧ್ಯಮ ಕಾಲ ಸಾಹಿತ್ಯಂ)
ಹಾಟಕ ಕ್ಷೇತ್ರ ನಿವಾಸ ಹಂಸ ರೂಪ ಚಿದ್ವಿಲಾಸ
ಕೋಟಿ ಕೋಟಿ ಚಿದಾಭಾಸ ಗುರು ಗುಹ ಮಾನಸೋಲ್ಲಾಸ
ಚರಣಂ
ದಾರುಕಾ ವನಸ್ಥ ತಪೋಧನಾತ್ಯುಗ್ರ –
ತಪಃಪ್ರಭಾವ ಸಂಭವ ಮೂರ್ತೇ
ಮೇರು ಶೃಂಗ ಮಧ್ಯ ಸ್ಥಿತ ಶ್ರೀ ನಗರ –
ವಿಹಾರ ಪರಾ ಶಕ್ತಿ ಸಹಿತ ಕೀರ್ತೇ
ಮಾರುತಿ ನಂದ್ಯರ್ಜುನಾದಿ –
ಭರತಾಚಾರ್ಯೈರವೇದಿತ ನರ್ತನ ಸ್ಫೂರ್ತೇ
ಚಾರು ಸ್ಮಿತ ಮುಖಾಂಭೋಜ ಶಶಿ ಧರ
ಸರಸೀರುಹ ಪದ ವಿದಲಿತ ಭಕ್ತಾರ್ತೇ
(ಮಧ್ಯಮ ಕಾಲ ಸಾಹಿತ್ಯಂ)
ಗೌರೀ ಪತೇ ಪಶು ಪತೇ ಗಂಗಾ ಧರ ಜಗತ್ಪತೇ
ಶೌರಿ ವಿನುತ ಭೂತ ಪತೇ ಶಂಕರ ಕೈಲಾಸ ಪತೇ
variations
ಪಾದಪ – ಪಾದ
ದಾರುಕಾ ವನಸ್ಥ – ದಾರುಕಾ ವನ
.
पल्लवि
हाटकेश्वर संरक्ष मां
तप्त हाटक-मय लिङ्ग मूर्ते त्रयात्मक
अनुपल्लवि
पाटली पादप मूल प्रकाश
पाताल बिल हरि हयाद्यमर नुत
(मध्यम काल साहित्यम्)
हाटक क्षेत्र निवास हंस रूप चिद्विलास
कोटि कोटि चिदाभास गुरु गुह मानसोल्लास
चरणम्
दारुका वनस्थ तपोधनात्युग्र –
तपःप्रभाव संभव मूर्ते
मेरु शृङ्ग मध्य स्थित श्री नगर –
विहार परा शक्ति सहित कीर्ते
मारुति नन्द्यर्जुनादि –
भरताचार्यैरवेदित नर्तन स्फूर्ते
चारु स्मित मुखाम्भोज शशि धर
सरसीरुह पद विदलित भक्तार्ते
(मध्यम काल साहित्यम्)
गौरी पते पशु पते गङ्गा धर जगत्पते
शौरि विनुत भूत पते शङ्कर कैलास पते
variations
पादप – पाद
दारुका वनस्थ – दारुका वन
.
pallavi
hATakESvara saMraksha mAM
tapta hATaka-maya linga mUrtE trayAtmaka
anupallavi
pATalI pAdapa mUla prakASa
pAtAla bila hari hayAdyamara nuta
(madhyama kAla sAhityam)
hATaka kshEtra nivAsa haMsa rUpa cidvilAsa
kOTi kOTi cidAbhAsa guru guha mAnasOllAsa
caraNam
dArukA vanastha tapOdhanAtyugra –
tapaHprabhAva saMbhava mUrtE
mEru SRnga madhya sthita SrI nagara –
vihAra parA Sakti sahita kIrtE
mAruti nandyarjunAdi –
bharatAcAryairavEdita nartana sphUrtE
cAru smita mukhAmbhOja SaSi dhara
sarasIruha pada vidalita bhaktArtE
(madhyama kAla sAhityam)
gaurI patE paSu patE gangA dhara jagatpatE
Sauri vinuta bhUta patE Sankara kailAsa patE
variations
pAdapa – pAda
dArukA vanastha – dArukA vana
.
പല്ലവി
ഹാടകേശ്വര സംരക്ഷ മാം
തപ്ത ഹാടക-മയ ലിങ്ഗ മൂര്തേ ത്രയാത്മക
അനുപല്ലവി
പാടലീ പാദപ മൂല പ്രകാശ
പാതാല ബില ഹരി ഹയാദ്യമര നുത
(മധ്യമ കാല സാഹിത്യമ്)
ഹാടക ക്ഷേത്ര നിവാസ ഹംസ രൂപ ചിദ്വിലാസ
കോടി കോടി ചിദാഭാസ ഗുരു ഗുഹ മാനസോല്ലാസ
ചരണമ്
ദാരുകാ വനസ്ഥ തപോധനാത്യുഗ്ര –
തപഃപ്രഭാവ സമ്ഭവ മൂര്തേ
മേരു ശൃങ്ഗ മധ്യ സ്ഥിത ശ്രീ നഗര –
വിഹാര പരാ ശക്തി സഹിത കീര്തേ
മാരുതി നന്ദ്യര്ജുനാദി –
ഭരതാചാര്യൈരവേദിത നര്തന സ്ഫൂര്തേ
ചാരു സ്മിത മുഖാമ്ഭോജ ശശി ധര
സരസീരുഹ പദ വിദലിത ഭക്താര്തേ
(മധ്യമ കാല സാഹിത്യമ്)
ഗൌരീ പതേ പശു പതേ ഗങ്ഗാ ധര ജഗത്പതേ
ശൌരി വിനുത ഭൂത പതേ ശങ്കര കൈലാസ പതേ
variations
പാദപ – പാദ
ദാരുകാ വനസ്ഥ – ദാരുകാ വന
.
Pallavi
Hatakeshvara! Protect me.Thou of the golden-hued linga form. The soul of the three states.
Anupallavi
The one who is in all splendour under the priyangu tree, in the underground cave worshipped by Indra and other devas, the one who dwells in Hatakakshetra or Tiruvarur,, the one who dwells in the minds of yogis (who have controlled minds like swans),
The one who is resplendent, the one who delights guruguha
Charanam
The form that rose due to the severe penance of the darukavana sages, the one who has the fame of being with the shakti in the shrinagara which is at the centre of the Meru mount.The one who knows the dance that even Hanuman,Nandi,ARjuna and Bharatacharya are not aware of! , The one who wears the moon and has a beautiful smile in his lotus-like face.The one who removes the trouble of the bhaktas who seek his lotus-feet.
.