Composer: Sri Tallapaka Annamacharya (Annamayya అన్నమయ్య) , May 9, 1408 – February 23, 1503 was born to Narayana Suri and Lakkamamba in Tallapaka, a village in current day Kadapa district of Andhra Pradesh. More….
Keerthana No. 16
Copper Sheet No. 203
Pallavi: Urike nisaranani (ఊరికే నీశరణని)
Ragam: Dhannasi
Language: Telugu (తెలుగు)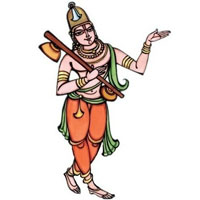 Recitals
Awaiting Contributions.
…
Awaiting Contributions.
[audio: audio-instrumental-file-name.mp3].
This Kriti was originally composed in Telugu. Other languages are for your convenience.
పల్లవి
ఊరికే నీశరణని వుండుటే నాపనిగాక
యీరీతి నావుపాయము లేడ కెక్కినయ్య
చరణములు
1.ముందే అంతర్యమివై మొగి నాలో నుండగాను
చెంది నిన్ను లేనివానిజేసుక నామనసులో
గొంది నీయాకారముగా కొంత నే భావించుకొంటా
ఇందుగల్పితధ్యనము లెట్టు చేసేనయ్య || ఊరికే ||
2.కన్నుల జూచినందెల్ల కమ్మి నీవై యుండగాను
అన్నిటా బ్రత్యక్షమందు అబావన చేసుకొని
విన్ననై తెలియలేక వేరే యెందొ వెదకుచు
పన్నినప్రయాసాల బడనేఋఇకయ్య || ఊరికే ||
3.శ్రీవేంకటాద్రిమేద శ్రిపతివై కొలువుండి
ఆవటించి తలపులో నచ్చొత్తి నట్టుండగాను
దేవుదెట్టీవడంటా తెగనిచదువులందు
సోవలుగా నింకనేమి సోదించేనయ్య || ఊరికే ||
.
Pallavi
UrikE nISaraNani vuMDuTE nApanigAka
yIrIti nAvupAyamu lEDa kekkinayya
Charanams
1.muMdE aMtaryamivai mogi nAlO nuMDagAnu
cheMdi ninnu lEnivAnijEsuka nAmanasulO
goMdi nIyAkAramugA koMta nE BAviMchukoMTA
iMdugalpitadhyanamu leTTu chEsEnayya || UrikE ||
2.kannula jUchinaMdella kammi nIvai yuMDagAnu
anniTA bratyaxamaMdu abAvana cEsukoni
vinnanai teliyalEka vErE yeMdo vedakuchu
panninaprayAsAla baDanERikayya || UrikE ||
3.SrIvEMkaTAdrimEda Sripativai koluvuMDi
AvaTiMchi talapulO nacchotti naTTuMDagAnu
dEvudeTTIvaDaMTA teganicaduvulaMdu
sOvalugA niMkanEmi sOdiMchEnayya || UrikE ||
.

We will update this page , once we find comprehensive meaning. Feel free to contribute if you know.
.