Composer: Muttukumaraswamy (முத்துகுமாரச்வாமி) popularly known as Muthuswamy Dikshithar (முத்துஸ்வாமி தீக்ஷிதர் – ముత్తుస్వామీ డిక్షితర్), (March 24, 1775 – October 21, 1835) was born in Tiruvarur (of Thanjavur district of Tamil Nadu) to a Tamil Iyer Brahmin couple Ramaswami Dikshitar and Subbamma, as the eldest son. He also had two younger brothers Baluswami, Chinnaswami and a sister Balambal.Chidambaranatha Yogi was his guru. More…

Raagam: Adi

Taalam: Veera Vasantam
Diety: Tiruvarur – Thyagaraja vibhakti Krithis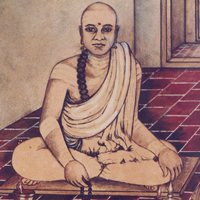 .
Recitals
Album: Unknown | Voice: Thiagarajan

Awaiting Contributions.

We believe this kriti was originally composed in sanskrit. Other languages are for your convenience.
పల్లవి
వీర వసంత త్యాగరాజ మాం
తారయాశు కరుణా నిధే జయ
అనుపల్లవి
మార జనక పూజిత మహా దేవ
మానిత అజపా నటన ప్రభావ
చరణము
దిన-కర శశి తేజో-మయ లోచన
దేవ రాజ ముని శాప విమోచన
వనజ వదన కమలా నగర సదన
వల్మీకేశ్వర భక్త జనావన
(మధ్యమ కాల సాహిత్యం)
కనక రత్న సింహాసనాభరణ
గణ పతి గురు గుహ జనక భవ తరణ
జననాత్ కైవల్య దాయక చరణ
జననీ శ్రీ కమలాంబికా స్మరణ
.
பல்லவி
வீர வஸந்த த்யாக3ராஜ மாம்
தாரயாஸு1 கருணா நிதே4 ஜய
அனுபல்லவி
மார ஜனக பூஜித மஹா தே3வ
மானித அஜபா நடன ப்ரபா4வ
சரணம்
தி3ன-கர ஸ1ஸி1 தேஜோ-மய லோசன
தே3வ ராஜ முனி ஸா1ப விமோசன
வனஜ வத3ன கமலா நக3ர ஸத3ன
வல்மீகேஸ்1வர ப4க்த ஜனாவன
(மத்4யம கால ஸாஹித்யம்)
கனக ரத்ன ஸிம்ஹாஸனாப4ரண
க3ண பதி கு3ரு கு3ஹ ஜனக ப4வ தரண
ஜனனாத் கைவல்ய தா3யக சரண
ஜனனீ ஸ்ரீ கமலாம்பி3கா ஸ்மரண
.
ಪಲ್ಲವಿ
ವೀರ ವಸಂತ ತ್ಯಾಗರಾಜ ಮಾಂ
ತಾರಯಾಶು ಕರುಣಾ ನಿಧೇ ಜಯ
ಅನುಪಲ್ಲವಿ
ಮಾರ ಜನಕ ಪೂಜಿತ ಮಹಾ ದೇವ
ಮಾನಿತ ಅಜಪಾ ನಟನ ಪ್ರಭಾವ
ಚರಣಂ
ದಿನ-ಕರ ಶಶಿ ತೇಜೋ-ಮಯ ಲೋಚನ
ದೇವ ರಾಜ ಮುನಿ ಶಾಪ ವಿಮೋಚನ
ವನಜ ವದನ ಕಮಲಾ ನಗರ ಸದನ
ವಲ್ಮೀಕೇಶ್ವರ ಭಕ್ತ ಜನಾವನ
(ಮಧ್ಯಮ ಕಾಲ ಸಾಹಿತ್ಯಂ)
ಕನಕ ರತ್ನ ಸಿಂಹಾಸನಾಭರಣ
ಗಣ ಪತಿ ಗುರು ಗುಹ ಜನಕ ಭವ ತರಣ
ಜನನಾತ್ ಕೈವಲ್ಯ ದಾಯಕ ಚರಣ
ಜನನೀ ಶ್ರೀ ಕಮಲಾಂಬಿಕಾ ಸ್ಮರಣ
.
पल्लवि
वीर वसन्त त्यागराज मां
तारयाशु करुणा निधे जय
अनुपल्लवि
मार जनक पूजित महा देव
मानित अजपा नटन प्रभाव
चरणम्
दिन-कर शशि तेजो-मय लोचन
देव राज मुनि शाप विमोचन
वनज वदन कमला नगर सदन
वल्मीकेश्वर भक्त जनावन
(मध्यम काल साहित्यम्)
कनक रत्न सिंहासनाभरण
गण पति गुरु गुह जनक भव तरण
जननात् कैवल्य दायक चरण
जननी श्री कमलाम्बिका स्मरण
.
pallavi
vIra vasanta tyAgarAja mAM
tArayASu karuNA nidhE jaya
anupallavi
mAra janaka pUjita mahA dEva
mAnita ajapA naTana prabhAva
caraNam
dina-kara SaSi tEjO-maya lOcana
dEva rAja muni SApa vimOcana
vanaja vadana kamalA nagara sadana
valmIkESvara bhakta janAvana
(madhyama kAla sAhityam)
kanaka ratna siMhAsanAbharaNa
gaNa pati guru guha janaka bhava taraNa
jananAt kaivalya dAyaka caraNa
jananI SrI kamalAmbikA smaraNa
.
പല്ലവി
വീര വസന്ത ത്യാഗരാജ മാം
താരയാശു കരുണാ നിധേ ജയ
അനുപല്ലവി
മാര ജനക പൂജിത മഹാ ദേവ
മാനിത അജപാ നടന പ്രഭാവ
ചരണമ്
ദിന-കര ശശി തേജോ-മയ ലോചന
ദേവ രാജ മുനി ശാപ വിമോചന
വനജ വദന കമലാ നഗര സദന
വല്മീകേശ്വര ഭക്ത ജനാവന
(മധ്യമ കാല സാഹിത്യമ്)
കനക രത്ന സിംഹാസനാഭരണ
ഗണ പതി ഗുരു ഗുഹ ജനക ഭവ തരണ
ജനനാത് കൈവല്യ ദായക ചരണ
ജനനീ ശ്രീ കമലാമ്ബികാ സ്മരണ
.
Pallavi
O brave Tyagaraja of vasanta festival! (O brave and youthful Tyagaraja!) Protect me, quick! O, Ocean of mercy. Victory unto thee.
Anupallavi
The one worshipped by Vishnu – father of cupid.The one who exhibits glory in the venerated ajapa dance.
Charanam
The one who has the sun,moon and fire as his eyes.The one who redeemed the King of Gods, Indra from the curse of the sage.
The lotus-faced who dwells in Kamalanagara.The one who is named Valmikeshwara and is dear to devotees.
The one adorned and seated on the golden bejwelled throne.The father of Ganapati and Shanmukha who helps cross
the ocean of samsara.The feet that grants salvation from birth, just by virtue of being born (in Tiruvarur).The one who is meditated upon by the mother
Kamalambika.
.