Composer: Muttukumaraswamy (முத்துகுமாரச்வாமி) popularly known as Muthuswamy Dikshithar (முத்துஸ்வாமி தீக்ஷிதர் – ముత్తుస్వామీ డిక్షితర్), (March 24, 1775 – October 21, 1835) was born in Tiruvarur (of Thanjavur district of Tamil Nadu) to a Tamil Iyer Brahmin couple Ramaswami Dikshitar and Subbamma, as the eldest son. He also had two younger brothers Baluswami, Chinnaswami and a sister Balambal.Chidambaranatha Yogi was his guru. More…

Raagam: Surati
Taalam: Roopakam
Diety: Navagraha Krithis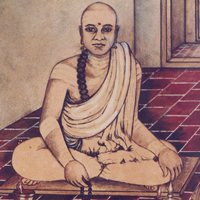 .
Recitals
Album: Unknown | Voice: M.D.Ramanatha
Album: Unknown | Voice: M.S.Subbulakshmi
Awaiting Contributions.
We believe this kriti was originally composed in sanskrit. Other languages are for your convenience.
పల్లవి
అంగారకం ఆశ్రయామ్యహం
వినతాశ్రిత జన మందారం
(మధ్యమ కాల సాహిత్యమ్)
మంగళ వారం భూమి కుమారం వారం వారమ్
అనుపల్లవి
శృంగారక మేష వృశ్చిక రాశ్యధిపతిం
రక్తాంగం రక్తాంబరాది ధరం శక్తి శూల ధరమ్
మంగళం కంబు గళం మంజుళ-తర పద యుగళం
మంగళ దాయక మేష తురంగం మకరోత్తుంగమ్
చరణము
దానవ సుర సేవిత మంద స్మిత విలసిత వక్త్రం
ధరణీ ప్రదం భ్రాతృ కారకం రక్త నేత్రమ్
దీన రక్షకం పూజిత వైద్య నాథ క్షేత్రం
దివ్యౌఘాది గురు గుహ కటాక్షానుగ్రహ పాత్రమ్
(మధ్యమ కాల సాహిత్యమ్)
భాను చంద్ర గురు మిత్రం భాసమాన సుకళత్రం
జానుస్థ హస్త చిత్రం చతుర్భుజం అతి విచిత్రమ్
variations
ఆశ్రయామ్యహం – ఆశ్రయామ్యహం శ్రీ
రాశ్యధిపతిం – రాశ్యాధిపతిం
.
பல்லவி
அங்கா3ரகம் ஆஸ்1ரயாம்யஹம்
வினதாஸ்1ரித ஜன மந்தா3ரம்
(மத்4யம கால ஸாஹித்யம்)
மங்க3ள வாரம் பூ4மி குமாரம் வாரம் வாரம்
அனுபல்லவி
ஸ்1ரு2ங்கா3ரக மேஷ வ்ரு2ஸ்1சிக ராஸ்1யதி4பதிம்
ரக்தாங்க3ம் ரக்தாம்ப3ராதி3 த4ரம் ஸ1க்தி ஸூ1ல த4ரம்
மங்க3ளம் கம்பு3 க3ளம் மஞ்ஜுள-தர பத3 யுக3ளம்
மங்க3ள தா3யக மேஷ துரங்க3ம் மகரோத்துங்க3ம்
சரணம்
தா3னவ ஸுர ஸேவித மந்த3 ஸ்மித விலஸித வக்த்ரம்
த4ரணீ ப்ரத3ம் ப்4ராத்ரு2 காரகம் ரக்த நேத்ரம்
தீ3ன ரக்ஷகம் பூஜித வைத்3ய நாத2 க்ஷேத்ரம்
தி3வ்யௌகா4தி3 கு3ரு கு3ஹ கடாக்ஷானுக்3ரஹ பாத்ரம்
(மத்4யம கால ஸாஹித்யம்)
பா4னு சந்த்3ர கு3ரு மித்ரம் பா4ஸமான ஸுகளத்ரம்
ஜானுஸ்த2 ஹஸ்த சித்ரம் சதுர்பு4ஜம் அதி விசித்ரம்
variations
ஆஸ்1ரயாம்யஹம் – ஆஸ்1ரயாம்யஹம் ஸ்ரீ
ராஸ்1யதி4பதிம் – ராஸ்1யாதி4பதிம்
.
ಪಲ್ಲವಿ
ಅಂಗಾರಕಂ ಆಶ್ರಯಾಮ್ಯಹಂ
ವಿನತಾಶ್ರಿತ ಜನ ಮಂದಾರಂ
(ಮಧ್ಯಮ ಕಾಲ ಸಾಹಿತ್ಯಮ್)
ಮಂಗಳ ವಾರಂ ಭೂಮಿ ಕುಮಾರಂ ವಾರಂ ವಾರಮ್
ಅನುಪಲ್ಲವಿ
ಶೃಂಗಾರಕ ಮೇಷ ವೃಶ್ಚಿಕ ರಾಶ್ಯಧಿಪತಿಂ
ರಕ್ತಾಂಗಂ ರಕ್ತಾಂಬರಾದಿ ಧರಂ ಶಕ್ತಿ ಶೂಲ ಧರಮ್
ಮಂಗಳಂ ಕಂಬು ಗಳಂ ಮಂಜುಳ-ತರ ಪದ ಯುಗಳಂ
ಮಂಗಳ ದಾಯಕ ಮೇಷ ತುರಂಗಂ ಮಕರೋತ್ತುಂಗಮ್
ಚರಣಮ್
ದಾನವ ಸುರ ಸೇವಿತ ಮಂದ ಸ್ಮಿತ ವಿಲಸಿತ ವಕ್ತ್ರಂ
ಧರಣೀ ಪ್ರದಂ ಭ್ರಾತೃ ಕಾರಕಂ ರಕ್ತ ನೇತ್ರಮ್
ದೀನ ರಕ್ಷಕಂ ಪೂಜಿತ ವೈದ್ಯ ನಾಥ ಕ್ಷೇತ್ರಂ
ದಿವ್ಯೌಘಾದಿ ಗುರು ಗುಹ ಕಟಾಕ್ಷಾನುಗ್ರಹ ಪಾತ್ರಮ್
(ಮಧ್ಯಮ ಕಾಲ ಸಾಹಿತ್ಯಮ್)
ಭಾನು ಚಂದ್ರ ಗುರು ಮಿತ್ರಂ ಭಾಸಮಾನ ಸುಕಳತ್ರಂ
ಜಾನುಸ್ಥ ಹಸ್ತ ಚಿತ್ರಂ ಚತುರ್ಭುಜಂ ಅತಿ ವಿಚಿತ್ರಮ್
variations
ಆಶ್ರಯಾಮ್ಯಹಂ – ಆಶ್ರಯಾಮ್ಯಹಂ ಶ್ರೀ
ರಾಶ್ಯಧಿಪತಿಂ – ರಾಶ್ಯಾಧಿಪತಿಂ
.
पल्लवि
अङ्गारकं आश्रयाम्यहं
विनताश्रित जन मन्दारं
(मध्यम काल साहित्यम्)
मङ्गळ वारं भूमि कुमारं वारं वारम्
अनुपल्लवि
शृङ्गारक मेष वृश्चिक राश्यधिपतिं
रक्ताङ्गं रक्ताम्बरादि धरं शक्ति शूल धरम्
मङ्गळं कम्बु गळं मञ्जुळ-तर पद युगळं
मङ्गळ दायक मेष तुरङ्गं मकरोत्तुङ्गम्
चरणम्
दानव सुर सेवित मन्द स्मित विलसित वक्त्रं
धरणी प्रदं भ्रातृ कारकं रक्त नेत्रम्
दीन रक्षकं पूजित वैद्य नाथ क्षेत्रं
दिव्यौघादि गुरु गुह कटाक्षानुग्रह पात्रम्
(मध्यम काल साहित्यम्)
भानु चन्द्र गुरु मित्रं भासमान सुकळत्रं
जानुस्थ हस्त चित्रं चतुर्भुजं अति विचित्रम्
variations
आश्रयाम्यहं – आश्रयाम्यहं श्री
राश्यधिपतिं – राश्याधिपतिं
.
pallavi
angArakaM ASrayAmyahaM
vinatASrita jana mandAraM
(madhyama kAla sAhityam)
mangaLa vAraM bhUmi kumAraM vAraM vAram
anupallavi
SRngAraka mEsha vRScika rASyadhipatiM
raktAngaM raktAmbarAdi dharaM Sakti SUla dharam
mangaLaM kambu gaLaM manjuLa-tara pada yugaLaM
mangaLa dAyaka mEsha turangaM makarOttungam
caraNam
dAnava sura sEvita manda smita vilasita vaktraM
dharaNI pradaM bhrAtR kArakaM rakta nEtram
dIna rakshakaM pUjita vaidya nAtha kshEtraM
divyaughAdi guru guha kaTAkshAnugraha pAtram
(madhyama kAla sAhityam)
bhAnu candra guru mitraM bhAsamAna sukaLatraM
jAnustha hasta citraM caturbhujaM ati vicitram
variations
ASrayAmyahaM – ASrayAmyahaM SrI
rASyadhipatiM – rASyAdhipatiM
.
പല്ലവി
അങ്ഗാരകം ആശ്രയാമ്യഹം
വിനതാശ്രിത ജന മന്ദാരം
(മധ്യമ കാല സാഹിത്യമ്)
മങ്ഗള വാരം ഭൂമി കുമാരം വാരം വാരമ്
അനുപല്ലവി
ശൃങ്ഗാരക മേഷ വൃശ്ചിക രാശ്യധിപതിം
രക്താങ്ഗം രക്താമ്ബരാദി ധരം ശക്തി ശൂല ധരമ്
മങ്ഗളം കമ്ബു ഗളം മഞ്ജുള-തര പദ യുഗളം
മങ്ഗള ദായക മേഷ തുരങ്ഗം മകരോത്തുങ്ഗമ്
ചരണമ്
ദാനവ സുര സേവിത മന്ദ സ്മിത വിലസിത വക്ത്രം
ധരണീ പ്രദം ഭ്രാതൃ കാരകം രക്ത നേത്രമ്
ദീന രക്ഷകം പൂജിത വൈദ്യ നാഥ ക്ഷേത്രം
ദിവ്യൌഘാദി ഗുരു ഗുഹ കടാക്ഷാനുഗ്രഹ പാത്രമ്
(മധ്യമ കാല സാഹിത്യമ്)
ഭാനു ചന്ദ്ര ഗുരു മിത്രം ഭാസമാന സുകളത്രം
ജാനുസ്ഥ ഹസ്ത ചിത്രം ചതുര്ഭുജം അതി വിചിത്രമ്
variations
ആശ്രയാമ്യഹം – ആശ്രയാമ്യഹം ശ്രീ
രാശ്യധിപതിം – രാശ്യാധിപതിം
.
Pallavi:
I revere Angaaraka again and again.the wish-yielding tree of the reverent devotees. The one in charge of tuesday.The son of Earth.
Anupallavi:
The lord of the beautiful signs of the zodiac,Aries and Scorpio. The red-coloured one,The one wearing red silk.The one bearing the weapons shakthyaayudha and shoola.The auspicious-one.The conch-necked one,
The one with lotus-like feet.The harbinger of auspiciousness that rides on a ram.the one exalted in Capricorn.
Charanam:
The one worshipped by the demons and gods and the one who has a smiling countenance.The bestower of land,the significator for brothers,The red-eyed one. The protector of the weak.The one worshipped at the kshethra of Vaidhyanaatha ie Vaidhiishwaran koil.The beneficiary of the grace of the gods and of guha. The one who is the friend of the Sun,moon and jupiter.The one who has a beautiful consort. The one who is seated with his hands on his knees. The one with four-hands
Each planet in astrology is a significator for a relative – Mars signifies brothers.
The sign of exaltation for Mars is Capricorn.
.