Composer: Sri Tallapaka Annamacharya (Annamayya అన్నమయ్య) , May 9, 1408 – February 23, 1503 was born to Narayana Suri and Lakkamamba in Tallapaka, a village in current day Kadapa district of Andhra Pradesh. More….
Keerthana No. 108
Copper Sheet No. 319
Pallavi: Atanibajiyincaro (అతనిభజియించరో)
Ragam: Lalitha
Language: Telugu (తెలుగు)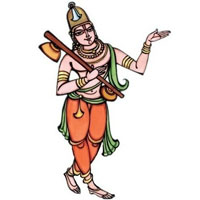 Recitals
Awaiting Contributions.
…
Awaiting Contributions.
[audio: audio-instrumental-file-name.mp3].
This Kriti was originally composed in Telugu. Other languages are for your convenience.
పల్లవి
అతనిభజియించరో ఆతుమలాల శ్రీ-
పతి యితనికరుణే ఫలమింతేకాని
చరణములు
1.సంగమే భంగమే(ము?) సుండి సకలవిరక్తులాల
వెంగలివిష(య)ములే విషము సుండి
అంగపుబంధువులెల్ల అంటుబంధములు సుండి
సంగతి హరి యొకఁడే సతమింతేకాని
2.మోహమే దాహమునుండి మోక్షోపాయకులాల
సాహససంసారమే నిస్సారముసుండి
దేహము గొన్నాళ్ళకు సందేహమై తోఁచుసుండి
శ్రీహరిసేవొక్కటే వచ్చినదింతేకాని
3.కోపమే తాపముసుండి కోరనిసాత్వికులాల
రూపులేనిభోగమెల్ల రుణముసుండి
కైపుసేసి యిన్నిటాను గడచి శ్రీవేంకటేశు-
నోపి శరణని మనేదొక్కటేసుండి
.
Pallavi
ataniBajiyiMcarO AtumalAla SrI-
pati yitanikaruNE PalamiMtEkAni
Charanams
1.saMgamE BaMgamE(mu?) suMDi sakalaviraktulAla
veMgalivisha(ya)mulE vishamu suMDi
aMgapubaMdhuvulella aMTubaMdhamulu suMDi
saMgati hari yoka@mDE satamiMtEkAni
2.mOhamE dAhamunuMDi mOxOpAyakulAla
sAhasasaMsAramE nissAramusuMDi
dEhamu gonnALLaku saMdEhamai tO@mcusuMDi
SrIharisEvokkaTE vaccinadiMtEkAni
3.kOpamE tApamusuMDi kOranisAtvikulAla
rUpulEniBOgamella ruNamusuMDi
kaipusEsi yinniTAnu gaDaci SrIvEMkaTESu-
nOpi SaraNani manEdokkaTEsuMDi
.

We will update this page , once we find comprehensive meaning. Feel free to contribute if you know.
.