Composer: Muttukumaraswamy (முத்துகுமாரச்வாமி) popularly known as Muthuswamy Dikshithar (முத்துஸ்வாமி தீக்ஷிதர் – ముత్తుస్వామీ డిక్షితర్), (March 24, 1775 – October 21, 1835) was born in Tiruvarur (of Thanjavur district of Tamil Nadu) to a Tamil Iyer Brahmin couple Ramaswami Dikshitar and Subbamma, as the eldest son. He also had two younger brothers Baluswami, Chinnaswami and a sister Balambal.Chidambaranatha Yogi was his guru. More…

Raagam: Mukhaari
Taalam: Rupakam
Diety: Kanchanchi – Ekamranatheswra krithis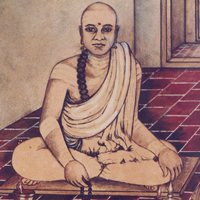 .
Recitals
Album: Unknown | Voice: T.M. Krishna

Awaiting Contributions.

We believe this kriti was originally composed in sanskrit. Other languages are for your convenience.
పల్లవి
ఏకామ్ర నాథాయ నమస్తే నమస్తే శ్రీ
సమష్టి చరణము
పాక శాసనాది సకల దేవ బృంద సన్నుతాయ
పర శివ తత్వ బోధిత పరమ శాంత స్వరూపాయ
మూక ముఖ్య వాక్ప్రదాయ మూల కంద ముక్తిదాయ
కామాక్షీ సమేతాయ గణ పతి గురు గుహ సుతాయ
.
பல்லவி
ஏகாம்ர நாதா2ய நமஸ்தே நமஸ்தே ஸ்ரீ
ஸமஷ்டி சரணம்
பாக ஸா1ஸனாதி3 ஸகல தே3வ ப்3ரு2ந்த3 ஸன்னுதாய
பர ஸி1வ தத்வ போ3தி4த பரம ஸா1ந்த ஸ்வரூபாய
மூக முக்2ய வாக்ப்ரதா3ய மூல கந்த3 முக்திதா3ய
காமாக்ஷீ ஸமேதாய க3ண பதி கு3ரு கு3ஹ ஸுதாய
.
ಪಲ್ಲವಿ
ಏಕಾಮ್ರ ನಾಥಾಯ ನಮಸ್ತೇ ನಮಸ್ತೇ ಶ್ರೀ
ಸಮಷ್ಟಿ ಚರಣಮ್
ಪಾಕ ಶಾಸನಾದಿ ಸಕಲ ದೇವ ಬೃಂದ ಸನ್ನುತಾಯ
ಪರ ಶಿವ ತತ್ವ ಬೋಧಿತ ಪರಮ ಶಾಂತ ಸ್ವರೂಪಾಯ
ಮೂಕ ಮುಖ್ಯ ವಾಕ್ಪ್ರದಾಯ ಮೂಲ ಕಂದ ಮುಕ್ತಿದಾಯ
ಕಾಮಾಕ್ಷೀ ಸಮೇತಾಯ ಗಣ ಪತಿ ಗುರು ಗುಹ ಸುತಾಯ
.
पल्लवि
एकाम्र नाथाय नमस्ते नमस्ते श्री
समष्टि चरणम्
पाक शासनादि सकल देव बृन्द सन्नुताय
पर शिव तत्व बोधित परम शान्त स्वरूपाय
मूक मुख्य वाक्प्रदाय मूल कन्द मुक्तिदाय
कामाक्षी समेताय गण पति गुरु गुह सुताय
.
pallavi
EkAmra nAthAya namastE namastE SrI
samashTi caraNam
pAka SAsanAdi sakala dEva bRnda sannutAya
para Siva tatva bOdhita parama SAnta svarUpAya
mUka mukhya vAkpradAya mUla kanda muktidAya
kAmAkshI samEtAya gaNa pati guru guha sutAya
.
പല്ലവി
ഏകാമ്ര നാഥായ നമസ്തേ നമസ്തേ ശ്രീ
സമഷ്ടി ചരണമ്
പാക ശാസനാദി സകല ദേവ ബൃന്ദ സന്നുതായ
പര ശിവ തത്വ ബോധിത പരമ ശാന്ത സ്വരൂപായ
മൂക മുഖ്യ വാക്പ്രദായ മൂല കന്ദ മുക്തിദായ
കാമാക്ഷീ സമേതായ ഗണ പതി ഗുരു ഗുഹ സുതായ
.
Pallavi
Prostrations unto you EkAmranAtha.
Samashti charanam
The one praised by Indra – slayer of Paka and by all the other devas.The serene one who preaches the supreme Shiva tatva.The one who bestowed speech to the dumb poet muka.The power that bestows liberation.The consort of Kamakshi.The one who has Ganapati and guruguha as his sons.
.