Composer: Sri Tallapaka Annamacharya (Annamayya అన్నమయ్య) , May 9, 1408 – February 23, 1503 was born to Narayana Suri and Lakkamamba in Tallapaka, a village in current day Kadapa district of Andhra Pradesh. More….
Keerthana No. 343
Copper Sheet No. 358
Pallavi: Ennadu vijnaanamika (ఎన్నడు విజ్ఞానమిక)
Ragam: Aahiri
Language: Telugu (తెలుగు)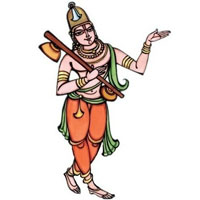 Recitals
Awaiting Contributions.
…
Awaiting Contributions.
[audio: audio-instrumental-file-name.mp3].
This Kriti was originally composed in Telugu. Other languages are for your convenience.
Pallavi
ఎన్నడు విజ్ఞానమికనాకు విన్నపమిదె శ్రీ వేంకటనాథా
Charanams
1.బాసిన బాయవు భవబంధములు ఆస ఈ దేహమున్నన్నాళ్ళు
కోసిన తొలగవు కోరికలు గాసిలి చిత్తము కలిగినన్నాళ్ళు
2.కొచ్చిన కొరయవు కోపములు గచ్చుల గుణములు గలిగినన్నాళ్ళు
తచ్చిన తగలవు తహతహలు రచ్చలు విషయపు రతులన్నాళ్ళు
3.ఒకటికొకటికిని ఒడబడవు అకట శ్రీవేంకటాధిపుడా
సకలము నీవే సరణంటే ఇక వికటము లణగెను వేడుక నాళ్ళు
.
Pallavi
ennaDu vij~naanamikanaaku vinnapamide Sree vaeMkaTanaathaa
Charanams
1.baasina baayavu bhavabaMdhamulu aasa ee daehamunnannaaLLu
kOsina tolagavu kOrikalu gaasili chittamu kaliginannaaLLu
2.kochchina korayavu kOpamulu gachchula guNamulu galiginannaaLLu
tachchina tagalavu tahatahalu rachchalu vishayapu ratulannaaLLu
3.okaTikokaTikini oDabaDavu akaTa SreevaeMkaTaadhipuDaa
sakalamu neevae saraNaMTae ika vikaTamu laNagenu vaeDuka naaLLu
.

We will update this page , once we find comprehensive meaning. Feel free to contribute if you know.
.