Composer: Sri Tallapaka Annamacharya (Annamayya అన్నమయ్య) , May 9, 1408 – February 23, 1503 was born to Narayana Suri and Lakkamamba in Tallapaka, a village in current day Kadapa district of Andhra Pradesh. More….
Keerthana No. 21
Copper Sheet No. 204
Pallavi: Garudadhwajam (గరుడధ్వజం)
Ragam: Ramakriya
Language: Telugu (తెలుగు)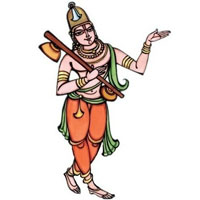 Recitals
Awaiting Contributions.
…
Awaiting Contributions.
[audio: audio-instrumental-file-name.mp3].
This Kriti was originally composed in Telugu. Other languages are for your convenience.
పల్లవి
గరుడధ్వజం బెక్కె కమలాక్షుపెండ్లికి
పరుష లదివో వచ్చెఁ బైపై సెవించను
చరణములు
1.పాడిరి సోబాన నదే భరతియు గిరిజయు
ఆడిరి రంభాదులైనాచ్చరలెల్ల
కూదిరి దేవతలెల్ల గుంపులై శ్రీవేంకటాద్రి
వేదుకలు మేరఁగ శ్రీవేంకటాద్రి || గరుడధ్వజం ||
2.కురిసెఁ బువ్వులవాన కుప్పలై యెందు చూచిన
మెరసె దేవదుందుభిమోఁతలెల్లను
బెరసె సంపదలెల్ల పెంతలై శ్రీవేంకటాద్రి
తిరమైమించిన దేవదేవునిపెండ్లికిని || గరుడధ్వజం ||
3.వేసిరి ఖానుకలెల్ల వేవేలు కొప్పెరల
పోసి రదే తలఁబలు పుణ్యసతులు
ఆసల శ్రీవేంకటేశుఁ డలమైలుమంగఁదాను
సేసలువెట్టినయట్టిసింగారపుపెంద్లికి || గరుడధ్వజం ||
.
Pallavi
garuDadhwajaM bekke kamalAkshupeMDliki
parusha ladivO vacche@m baipai seviMchanu
Charanams
1.pADiri sObAna nadE Baratiyu girijayu
ADiri raMBAdulainaaccharalella
kUdiri dEvatalella guMpulai SrIvEMkaTAdri
vEdukalu mEra@mga SrIvEMkaTAdri || garuDadhwajaM ||
2.kurise@m buvvulavAna kuppalai yeMdu chUchina
merase dEvaduMduBimO@mtalellanu
berase saMpadalella peMtalai SrIvEMkaTAdri
tiramaimiMchina dEvadEvunipeMDlikini || garuDadhwajaM ||
3.vEsiri KAnukalella vEvElu kopperala
pOsi radE tala@mbalu puNyasatulu
Asala SrIvEMkaTESu@m DalamailumaMga@mdAnu
sEsaluveTTinayaTTisiMgArapupeMdliki || garuDadhwajaM ||
.

We will update this page , once we find comprehensive meaning. Feel free to contribute if you know.
.