Composer: Muttukumaraswamy (முத்துகுமாரச்வாமி) popularly known as Muthuswamy Dikshithar (முத்துஸ்வாமி தீக்ஷிதர் – ముత్తుస్వామీ డిక్షితర్), (March 24, 1775 – October 21, 1835) was was born in Tiruvarur (of Thanjavur district of Tamil Nadu) to a Tamil Iyer Brahmin couple Ramaswami Dikshitar and Subbamma, as the eldest son. He also had two younger brothers Baluswami, Chinnaswami and a sister Balambal.Chidambaranatha Yogi was his guru. More…

Raagam: Sankaraabharanam
Taalam: Adi

Diety: Mayuram – Mayuranatha swami krithis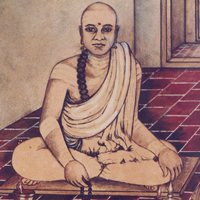 .
Recitals
Album: Unknown | Voice: T.N.Bala
Album: Unknown | Voice: Kalpakam Swaminathan

Awaiting Contributions.

We believe this kriti was originally composed in sanskrit. Other languages are for your convenience.
పల్లవి
గిరిజయాऽజయా అభయాంబికయా
గిరీశ జాయయా రక్షితోऽహమ్
అనుపల్లవి
హరి హయాది దేవతారాధితయా
ఆత్మ స్వరూప ప్రబోధితయా
(మధ్యమ కాల సాహిత్యమ్)
హరి హర గురు గుహ సమ్మోదితయా
ఆది-క్షాంత వర్ణ వేదితయా
చరణము
సమయ విశేష నిర్యాణ ముఖ –
బీజ నిర్బీజ దీక్షా విషయ కరణ –
సమయాచరణోపయోగ పూజా –
సామగ్రీ సంగ్రహాంతఃకరణ –
సమయ మత ప్రతిపాద్యానుసరణ –
సామాన్య విశేష ప్రజా చరణ –
(మధ్యమ కాల సాహిత్యమ్)
మమత్వ నిరాకరణ క్రియా యుత –
సద్భక్తానాం ధర్మార్థ రూప –
సమత్వ వృత్తి వితరణ నిపుణ-తర –
సామ్రాజ్య ప్రదారుణ చరణయా
.
பல்லவி
கி3ரிஜயாऽஜயா அப4யாம்பி3கயா
கி3ரீஸ1 ஜாயயா ரக்ஷிதோऽஹம்
அனுபல்லவி
ஹரி ஹயாதி3 தே3வதாராதி4தயா
ஆத்ம ஸ்வரூப ப்ரபோ3தி4தயா
(மத்4யம கால ஸாஹித்யம்)
ஹரி ஹர கு3ரு கு3ஹ ஸம்மோதி3தயா
ஆதி3-க்ஷாந்த வர்ண வேதி3தயா
சரணம்
ஸமய விஸே1ஷ நிர்யாண முக2 –
பீ3ஜ நிர்பீ3ஜ தீ3க்ஷா விஷய கரண –
ஸமயாசரணோபயோக3 பூஜா –
ஸாமக்3ரீ ஸங்க்3ரஹாந்த:கரண –
ஸமய மத ப்ரதிபாத்3யானுஸரண –
ஸாமான்ய விஸே1ஷ ப்ரஜா சரண –
(மத்4யம கால ஸாஹித்யம்)
மமத்வ நிராகரண க்ரியா யுத –
ஸத்3ப4க்தானாம் த4ர்மார்த2 ரூப –
ஸமத்வ வ்ரு2த்தி விதரண நிபுண-தர –
ஸாம்ராஜ்ய ப்ரதா3ருண சரணயா
.
ಪಲ್ಲವಿ
ಗಿರಿಜಯಾऽಜಯಾ ಅಭಯಾಂಬಿಕಯಾ
ಗಿರೀಶ ಜಾಯಯಾ ರಕ್ಷಿತೋऽಹಮ್
ಅನುಪಲ್ಲವಿ
ಹರಿ ಹಯಾದಿ ದೇವತಾರಾಧಿತಯಾ
ಆತ್ಮ ಸ್ವರೂಪ ಪ್ರಬೋಧಿತಯಾ
(ಮಧ್ಯಮ ಕಾಲ ಸಾಹಿತ್ಯಮ್)
ಹರಿ ಹರ ಗುರು ಗುಹ ಸಮ್ಮೋದಿತಯಾ
ಆದಿ-ಕ್ಷಾಂತ ವರ್ಣ ವೇದಿತಯಾ
ಚರಣಮ್
ಸಮಯ ವಿಶೇಷ ನಿರ್ಯಾಣ ಮುಖ –
ಬೀಜ ನಿರ್ಬೀಜ ದೀಕ್ಷಾ ವಿಷಯ ಕರಣ –
ಸಮಯಾಚರಣೋಪಯೋಗ ಪೂಜಾ –
ಸಾಮಗ್ರೀ ಸಂಗ್ರಹಾಂತಃಕರಣ –
ಸಮಯ ಮತ ಪ್ರತಿಪಾದ್ಯಾನುಸರಣ –
ಸಾಮಾನ್ಯ ವಿಶೇಷ ಪ್ರಜಾ ಚರಣ –
(ಮಧ್ಯಮ ಕಾಲ ಸಾಹಿತ್ಯಮ್)
ಮಮತ್ವ ನಿರಾಕರಣ ಕ್ರಿಯಾ ಯುತ –
ಸದ್ಭಕ್ತಾನಾಂ ಧರ್ಮಾರ್ಥ ರೂಪ –
ಸಮತ್ವ ವೃತ್ತಿ ವಿತರಣ ನಿಪುಣ-ತರ –
ಸಾಮ್ರಾಜ್ಯ ಪ್ರದಾರುಣ ಚರಣಯಾ
.
पल्लवि
गिरिजयाऽजया अभयाम्बिकया
गिरीश जायया रक्षितोऽहम्
अनुपल्लवि
हरि हयादि देवताराधितया
आत्म स्वरूप प्रबोधितया
(मध्यम काल साहित्यम्)
हरि हर गुरु गुह सम्मोदितया
आदि-क्षान्त वर्ण वेदितया
चरणम्
समय विशेष निर्याण मुख –
बीज निर्बीज दीक्षा विषय करण –
समयाचरणोपयोग पूजा –
सामग्री संग्रहान्तःकरण –
समय मत प्रतिपाद्यानुसरण –
सामान्य विशेष प्रजा चरण –
(मध्यम काल साहित्यम्)
ममत्व निराकरण क्रिया युत –
सद्भक्तानां धर्मार्थ रूप –
समत्व वृत्ति वितरण निपुण-तर –
साम्राज्य प्रदारुण चरणया
.
pallavi
girijayA(a)jayA abhayAmbikayA
girISa jAyayA rakshitO(a)ham
anupallavi
hari hayAdi dEvatArAdhitayA
Atma svarUpa prabOdhitayA
(madhyama kAla sAhityam)
hari hara guru guha sammOditayA
Adi-kshAnta varNa vEditayA
caraNam
samaya viSEsha niryANa mukha –
bIja nirbIja dIkshA vishaya karaNa –
samayAcaraNOpayOga pUjA –
sAmagrI saMgrahAntaHkaraNa –
samaya mata pratipAdyAnusaraNa –
sAmAnya viSEsha prajA caraNa –
(madhyama kAla sAhityam)
mamatva nirAkaraNa kriyA yuta –
sadbhaktAnAM dharmArtha rUpa –
samatva vRtti vitaraNa nipuNa-tara –
sAmrAjya pradAruNa caraNayA
.
പല്ലവി
ഗിരിജയാऽജയാ അഭയാമ്ബികയാ
ഗിരീശ ജായയാ രക്ഷിതോऽഹമ്
അനുപല്ലവി
ഹരി ഹയാദി ദേവതാരാധിതയാ
ആത്മ സ്വരൂപ പ്രബോധിതയാ
(മധ്യമ കാല സാഹിത്യമ്)
ഹരി ഹര ഗുരു ഗുഹ സമ്മോദിതയാ
ആദി-ക്ഷാന്ത വര്ണ വേദിതയാ
ചരണമ്
സമയ വിശേഷ നിര്യാണ മുഖ –
ബീജ നിര്ബീജ ദീക്ഷാ വിഷയ കരണ –
സമയാചരണോപയോഗ പൂജാ –
സാമഗ്രീ സങ്ഗ്രഹാന്തഃകരണ –
സമയ മത പ്രതിപാദ്യാനുസരണ –
സാമാന്യ വിശേഷ പ്രജാ ചരണ –
(മധ്യമ കാല സാഹിത്യമ്)
മമത്വ നിരാകരണ ക്രിയാ യുത –
സദ്ഭക്താനാം ധര്മാര്ഥ രൂപ –
സമത്വ വൃത്തി വിതരണ നിപുണ-തര –
സാമ്രാജ്യ പ്രദാരുണ ചരണയാ
.
Pallavi
I am protected by Abhayambika, who is the daughter of Himavan, who has no birth and who is the spouse of Girisha, the Lord of Kailasa.
Anupallavi
She is worshiped by Vishnu, Indra and others. She is understood through self-realization. Vishnu, Shiva and Guruguha make Her happy, one who is realized through the letters A to Ksha.
Charanam
The goddess endows in Her devotees the power of casting off their lives when desired, and initiates them in Mukhabija and Nirbija. She confers also the ability to practice the precepts of religion and culture, the mental attitude for collecting the necessary materials for worship on proper occasion, and for following the general and special codes of conduct. Her ruddy feet bestow on Her virtuous noble devotees, who are engaged in the act of removing egoism, the power of envisioning the virtues and material pleasures alike – equanimity of thought – thereby confering on them the Samrajya.
.