Composer: Sri Tallapaka Annamacharya (Annamayya అన్నమయ్య) , May 9, 1408 – February 23, 1503 was born to Narayana Suri and Lakkamamba in Tallapaka, a village in current day Kadapa district of Andhra Pradesh. More….
Keerthana No. 366
Copper Sheet No. 963
Pallavi: Ituvamti dana naketi
(ఇటువంటి దాన నాకేటి)
Ragam: Kannada Goula
Language: Telugu (తెలుగు)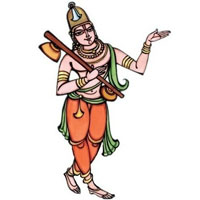 Recitals
Awaiting Contributions.
…
Awaiting Contributions.
[audio: audio-instrumental-file-name.mp3].
This Kriti was originally composed in Telugu. Other languages are for your convenience.
Pallavi
|| ఇటువంటి దాన నాకేటి యలుకే |
గట కట తేరాగా గాదనేనా నేను ||
Charanams
|| మాటలాడ కుండు గాని, మనసు లోపల నైతే |
నాటినది తనమీద నా చిత్తము |
కాటుక కన్నుల జూచి కసరుదుగాని నేను |
వాటపు వలపు మీద వంతుబో లోలోనే ||
|| దగ్గరి రాకుందుగాని, తా నన్ను నంటినప్పుడే |
వెగ్గళించి సిగ్గులెల్లా వీడ గలవే |
యెగ్గువట్టి వుందుగాని, యేపాటి నవ్వించినాను |
అగ్గలపు సరసము లాడుదుబో నేను ||
|| నివ్వెర గందితిగాని, నేడు నన్ను గూడగాను |
పవ్వళించి నప్పుడే పో పరవశము |
యివ్వల శ్రీ వేంకటేశుడేకతమాయ నాతోను |
జవ్వన భారము చేత జడిసీబో తనువు ||
.
Pallavi
|| iTuvaMTi dAna nAkETi yalukE |
gaTa kaTa tErAgA gAdanEnA nEnu ||
Charanams
|| mATalADa kuMDu gAni, manasu lOpala naitE |
nATinadi tanamIda nA cittamu |
kATuka kannula jUci kasarudugAni nEnu |
vATapu valapu mIda vaMtubO lOlOnE ||
|| daggari rAkuMdugAni, tA nannu naMTinappuDE |
veggaLiMci siggulellA vIDa galavE |
yegguvaTTi vuMdugAni, yEpATi navviMcinAnu |
aggalapu sarasamu lADudubO nEnu ||
|| nivvera gaMditigAni, nEDu nannu gUDagAnu |
pavvaLiMci nappuDE pO paravaSamu |
yivvala SrI vEMkaTESuDEkatamAya nAtOnu |
javvana BAramu cEta jaDisIbO tanuvu ||
.

We will update this page , once we find comprehensive meaning. Feel free to contribute if you know.
.