Composer: Muttukumaraswamy (முத்துகுமாரச்வாமி) popularly known as Muthuswamy Dikshithar (முத்துஸ்வாமி தீக்ஷிதர் – ముత్తుస్వామీ డిక్షితర్), (March 24, 1775 – October 21, 1835) was born in Tiruvarur (of Thanjavur district of Tamil Nadu) to a Tamil Iyer Brahmin couple Ramaswami Dikshitar and Subbamma, as the eldest son. He also had two younger brothers Baluswami, Chinnaswami and a sister Balambal.Chidambaranatha Yogi was his guru. More…

Raagam: Deva Gandharam
Taalam: Rupakam
Diety: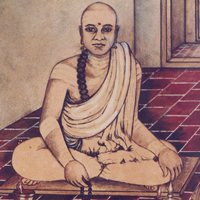 .
Recitals
Album: Unknown | Voice: M.Santhanam

Awaiting Contributions.

We believe this kriti was originally composed in sanskrit. Other languages are for your convenience.
పల్లవి
కాయారోహణేశం భజరే రే మానస
(మధ్యమ కాల సాహిత్యమ్)
కలి కల్మషాపహం శివ రాజధానీ క్షేత్ర స్థితమ్
అనుపల్లవి
భయాపహం దిక్పాలకాది వినుత మహేశ్వరం
(మధ్యమ కాల సాహిత్యమ్)
మాయా-మయ జగదాధారం గురు గుహోపచారమ్
చరణము
నీలాయతాక్షీ మనోల్లాస-కరణం
నిత్య శుద్ధ సత్త్వ గుణం భుక్తి ముక్తి ప్రద నిపుణమ్
(మధ్యమ కాల సాహిత్యమ్)
పాలిత భక్తం పంచాననం ప్రణత గజాననం
బాల చంద్ర శేఖరం భవ పాశ మోచనం త్రి-నయనమ్
.
பல்லவி
காயாரோஹணேஸ1ம் ப4ஜரே ரே மானஸ
(மத்4யம கால ஸாஹித்யம்)
கலி கல்மஷாபஹம் ஸி1வ ராஜதா4னீ க்ஷேத்ர ஸ்தி2தம்
அனுபல்லவி
ப4யாபஹம் தி3க்பாலகாதி3 வினுத மஹேஸ்1வரம்
(மத்4யம கால ஸாஹித்யம்)
மாயா-மய ஜக3தா3தா4ரம் கு3ரு கு3ஹோபசாரம்
சரணம்
நீலாயதாக்ஷீ மனோல்லாஸ-கரணம்
நித்ய ஸு1த்3த4 ஸத்த்வ கு3ணம் பு4க்தி முக்தி ப்ரத3 நிபுணம்
(மத்4யம கால ஸாஹித்யம்)
பாலித ப4க்தம் பஞ்சானனம் ப்ரணத க3ஜானனம்
பா3ல சந்த்3ர ஸே1க2ரம் ப4வ பாஸ1 மோசனம் த்ரி-நயனம்
.
ಪಲ್ಲವಿ
ಕಾಯಾರೋಹಣೇಶಂ ಭಜರೇ ರೇ ಮಾನಸ
(ಮಧ್ಯಮ ಕಾಲ ಸಾಹಿತ್ಯಮ್)
ಕಲಿ ಕಲ್ಮಷಾಪಹಂ ಶಿವ ರಾಜಧಾನೀ ಕ್ಷೇತ್ರ ಸ್ಥಿತಮ್
ಅನುಪಲ್ಲವಿ
ಭಯಾಪಹಂ ದಿಕ್ಪಾಲಕಾದಿ ವಿನುತ ಮಹೇಶ್ವರಂ
(ಮಧ್ಯಮ ಕಾಲ ಸಾಹಿತ್ಯಮ್)
ಮಾಯಾ-ಮಯ ಜಗದಾಧಾರಂ ಗುರು ಗುಹೋಪಚಾರಮ್
ಚರಣಮ್
ನೀಲಾಯತಾಕ್ಷೀ ಮನೋಲ್ಲಾಸ-ಕರಣಂ
ನಿತ್ಯ ಶುದ್ಧ ಸತ್ತ್ವ ಗುಣಂ ಭುಕ್ತಿ ಮುಕ್ತಿ ಪ್ರದ ನಿಪುಣಮ್
(ಮಧ್ಯಮ ಕಾಲ ಸಾಹಿತ್ಯಮ್)
ಪಾಲಿತ ಭಕ್ತಂ ಪಂಚಾನನಂ ಪ್ರಣತ ಗಜಾನನಂ
ಬಾಲ ಚಂದ್ರ ಶೇಖರಂ ಭವ ಪಾಶ ಮೋಚನಂ ತ್ರಿ-ನಯನಮ್
.
पल्लवि
कायारोहणेशं भजरे रे मानस
(मध्यम काल साहित्यम्)
कलि कल्मषापहं शिव राजधानी क्षेत्र स्थितम्
अनुपल्लवि
भयापहं दिक्पालकादि विनुत महेश्वरं
(मध्यम काल साहित्यम्)
माया-मय जगदाधारं गुरु गुहोपचारम्
चरणम्
नीलायताक्षी मनोल्लास-करणं
नित्य शुद्ध सत्त्व गुणं भुक्ति मुक्ति प्रद निपुणम्
(मध्यम काल साहित्यम्)
पालित भक्तं पञ्चाननं प्रणत गजाननं
बाल चन्द्र शेखरं भव पाश मोचनं त्रि-नयनम्
.
pallavi
kAyArOhaNESaM bhajarE rE mAnasa
(madhyama kAla sAhityam)
kali kalmashApahaM Siva rAjadhAnI kshEtra sthitam
anupallavi
bhayApahaM dikpAlakAdi vinuta mahESvaraM
(madhyama kAla sAhityam)
mAyA-maya jagadAdhAraM guru guhOpacAram
caraNam
nIlAyatAkshI manOllAsa-karaNaM
nitya Suddha sattva guNaM bhukti mukti prada nipuNam
(madhyama kAla sAhityam)
pAlita bhaktaM pancAnanaM praNata gajAnanaM
bAla candra SEkharaM bhava pASa mOcanaM tri-nayanam
.
പല്ലവി
കായാരോഹണേശം ഭജരേ രേ മാനസ
(മധ്യമ കാല സാഹിത്യമ്)
കലി കല്മഷാപഹം ശിവ രാജധാനീ ക്ഷേത്ര സ്ഥിതമ്
അനുപല്ലവി
ഭയാപഹം ദിക്പാലകാദി വിനുത മഹേശ്വരം
(മധ്യമ കാല സാഹിത്യമ്)
മായാ-മയ ജഗദാധാരം ഗുരു ഗുഹോപചാരമ്
ചരണമ്
നീലായതാക്ഷീ മനോല്ലാസ-കരണം
നിത്യ ശുദ്ധ സത്ത്വ ഗുണം ഭുക്തി മുക്തി പ്രദ നിപുണമ്
(മധ്യമ കാല സാഹിത്യമ്)
പാലിത ഭക്തം പഞ്ചാനനം പ്രണത ഗജാനനം
ബാല ചന്ദ്ര ശേഖരം ഭവ പാശ മോചനം ത്രി-നയനമ്
.
Pallavi
O Mind! Worship kayarohanesha ! the one who removes the evils of kali; the one who dwells in the Shivarajadhani kshetra.
Anupallavi
The one who removes fears; the lord worshipped by the dikpalakas; the basis of this illusory world; the one respected by Guruguha
Charanam
The cause for the happiness of the mind of Neelayatakshi; the eternal pure satva quality; The expert in granting liberation and enjoyment; the one who protects his devotes; the 5 – faced one; the one worshipped by Ganesha the elephant faced; the one who wears the crescent moon; the one who removes the bondage of samsara; the 3 eyed.
.