Composer: Muttukumaraswamy (முத்துகுமாரச்வாமி) popularly known as Muthuswamy Dikshithar (முத்துஸ்வாமி தீக்ஷிதர் – ముత్తుస్వామీ డిక్షితర్), (March 24, 1775 – October 21, 1835) was born in Tiruvarur (of Thanjavur district of Tamil Nadu) to a Tamil Iyer Brahmin couple Ramaswami Dikshitar and Subbamma, as the eldest son. He also had two younger brothers Baluswami, Chinnaswami and a sister Balambal.Chidambaranatha Yogi was his guru. More…

Raagam: Ananda Bhairavi
Taalam: Tisra Triputa
Diety: Kamalamba Navavarna Kritis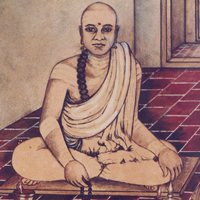 .
Recitals
Kamalamba Samrakshatu Mam
Album: Unknown | Voice: D.K.Jayaraman
Album: Unknown | Voice: K.Srinivasan
Album: Unknown | Voice: P.S.Iyer

Awaiting Contributions.

We believe this kriti was originally composed in sanskrit. Other languages are for your convenience.
పల్లవి
కమలాంబా సంరక్షతు మాం
హృత్కమలా నగర నివాసినీ అంబ
అనుపల్లవి
సుమనసారాధితాబ్జ ముఖీ
సుందర మనఃప్రియకర సఖీ
కమలజానంద బోధ సుఖీ
కాంతా తార పంజర శుకీ
చరణము
త్రిపురాది చక్రేశ్వరీ అణిమాది సిద్ధీశ్వరీ
నిత్య కామేశ్వరీ
క్షితి పుర త్రై-లోక్య మోహన చక్రవర్తినీ
ప్రకట యోగినీ
సుర రిపు మహిషాసురాది మర్దినీ
నిగమ పురాణాది సంవేదినీ
(మధ్యమ కాల సాహిత్యమ్)
త్రిపురేశీ గురు గుహ జననీ
త్రిపుర భంజన రంజనీ
మధు రిపు సహోదరీ తలోదరీ
త్రిపుర సుందరీ మహేశ్వరీ
variations
తిశ్ర త్రిపుట – చాపు
నివాసినీ అంబ – నివాసినీ అంబా – నివాసినీ
కాంతా తార – కాంతాధార
.
பல்லவி
கமலாம்பா3 ஸம்ரக்ஷது மாம்
ஹ்ரு2த்கமலா நக3ர நிவாஸினீ அம்ப3
அனுபல்லவி
ஸுமனஸாராதி4தாப்3ஜ முகீ2
ஸுந்த3ர மன:ப்ரியகர ஸகீ2
கமலஜானந்த3 போ3த4 ஸுகீ2
காந்தா தார பஞ்ஜர ஸு1கீ
சரணம்
த்ரிபுராதி3 சக்ரேஸ்1வரீ அணிமாதி3 ஸித்3தீ4ஸ்1வரீ
நித்ய காமேஸ்1வரீ
க்ஷிதி புர த்ரை-லோக்ய மோஹன சக்ரவர்தினீ
ப்ரகட யோகி3னீ
ஸுர ரிபு மஹிஷாஸுராதி3 மர்தி3னீ
நிக3ம புராணாதி3 ஸம்வேதி3னீ
(மத்4யம கால ஸாஹித்யம்)
த்ரிபுரேஸீ1 கு3ரு கு3ஹ ஜனனீ
த்ரிபுர ப4ஞ்ஜன ரஞ்ஜனீ
மது4 ரிபு ஸஹோத3ரீ தலோத3ரீ
த்ரிபுர ஸுந்த3ரீ மஹேஸ்1வரீ
variations
திஸ்1ர த்ரிபுட – சாபு
நிவாஸினீ அம்ப3 – நிவாஸினீ அம்பா3 – நிவாஸினீ
காந்தா தார – காந்தாதா4ர
.
ಪಲ್ಲವಿ
ಕಮಲಾಂಬಾ ಸಂರಕ್ಷತು ಮಾಂ
ಹೃತ್ಕಮಲಾ ನಗರ ನಿವಾಸಿನೀ ಅಂಬ
ಅನುಪಲ್ಲವಿ
ಸುಮನಸಾರಾಧಿತಾಬ್ಜ ಮುಖೀ
ಸುಂದರ ಮನಃಪ್ರಿಯಕರ ಸಖೀ
ಕಮಲಜಾನಂದ ಬೋಧ ಸುಖೀ
ಕಾಂತಾ ತಾರ ಪಂಜರ ಶುಕೀ
ಚರಣಮ್
ತ್ರಿಪುರಾದಿ ಚಕ್ರೇಶ್ವರೀ ಅಣಿಮಾದಿ ಸಿದ್ಧೀಶ್ವರೀ
ನಿತ್ಯ ಕಾಮೇಶ್ವರೀ
ಕ್ಷಿತಿ ಪುರ ತ್ರೈ-ಲೋಕ್ಯ ಮೋಹನ ಚಕ್ರವರ್ತಿನೀ
ಪ್ರಕಟ ಯೋಗಿನೀ
ಸುರ ರಿಪು ಮಹಿಷಾಸುರಾದಿ ಮರ್ದಿನೀ
ನಿಗಮ ಪುರಾಣಾದಿ ಸಂವೇದಿನೀ
(ಮಧ್ಯಮ ಕಾಲ ಸಾಹಿತ್ಯಮ್)
ತ್ರಿಪುರೇಶೀ ಗುರು ಗುಹ ಜನನೀ
ತ್ರಿಪುರ ಭಂಜನ ರಂಜನೀ
ಮಧು ರಿಪು ಸಹೋದರೀ ತಲೋದರೀ
ತ್ರಿಪುರ ಸುಂದರೀ ಮಹೇಶ್ವರೀ
variations
ತಿಶ್ರ ತ್ರಿಪುಟ – ಚಾಪು
ನಿವಾಸಿನೀ ಅಂಬ – ನಿವಾಸಿನೀ ಅಂಬಾ – ನಿವಾಸಿನೀ
ಕಾಂತಾ ತಾರ – ಕಾಂತಾಧಾರ
.
पल्लवि
कमलाम्बा संरक्षतु मां
हृत्कमला नगर निवासिनी अम्ब
अनुपल्लवि
सुमनसाराधिताब्ज मुखी
सुन्दर मनःप्रियकर सखी
कमलजानन्द बोध सुखी
कान्ता तार पञ्जर शुकी
चरणम्
त्रिपुरादि चक्रेश्वरी अणिमादि सिद्धीश्वरी
नित्य कामेश्वरी
क्षिति पुर त्रै-लोक्य मोहन चक्रवर्तिनी
प्रकट योगिनी
सुर रिपु महिषासुरादि मर्दिनी
निगम पुराणादि संवेदिनी
(मध्यम काल साहित्यम्)
त्रिपुरेशी गुरु गुह जननी
त्रिपुर भञ्जन रञ्जनी
मधु रिपु सहोदरी तलोदरी
त्रिपुर सुन्दरी महेश्वरी
variations
तिश्र त्रिपुट – चापु
निवासिनी अम्ब – निवासिनी अम्बा – निवासिनी
कान्ता तार – कान्ताधार
.
pallavi
kamalAmbA saMrakshatu mAM
hRtkamalA nagara nivAsinI amba
anupallavi
sumanasArAdhitAbja mukhI
sundara manaHpriyakara sakhI
kamalajAnanda bOdha sukhI
kAntA tAra panjara SukI
caraNam
tripurAdi cakrESvarI aNimAdi siddhISvarI
nitya kAmESvarI
kshiti pura trai-lOkya mOhana cakravartinI
prakaTa yOginI
sura ripu mahishAsurAdi mardinI
nigama purANAdi saMvEdinI
(madhyama kAla sAhityam)
tripurESI guru guha jananI
tripura bhanjana ranjanI
madhu ripu sahOdarI talOdarI
tripura sundarI mahESvarI
variations
tiSra tripuTa – cApu
nivAsinI amba – nivAsinI ambA – nivAsinI
kAntA tAra – kAntAdhAra
.
പല്ലവി
കമലാമ്ബാ സംരക്ഷതു മാം
ഹൃത്കമലാ നഗര നിവാസിനീ അമ്ബ
അനുപല്ലവി
സുമനസാരാധിതാബ്ജ മുഖീ
സുന്ദര മനഃപ്രിയകര സഖീ
കമലജാനന്ദ ബോധ സുഖീ
കാന്താ താര പഞ്ജര ശുകീ
ചരണമ്
ത്രിപുരാദി ചക്രേശ്വരീ അണിമാദി സിദ്ധീശ്വരീ
നിത്യ കാമേശ്വരീ
ക്ഷിതി പുര ത്രൈ-ലോക്യ മോഹന ചക്രവര്തിനീ
പ്രകട യോഗിനീ
സുര രിപു മഹിഷാസുരാദി മര്ദിനീ
നിഗമ പുരാണാദി സംവേദിനീ
(മധ്യമ കാല സാഹിത്യമ്)
ത്രിപുരേശീ ഗുരു ഗുഹ ജനനീ
ത്രിപുര ഭഞ്ജന രഞ്ജനീ
മധു രിപു സഹോദരീ തലോദരീ
ത്രിപുര സുന്ദരീ മഹേശ്വരീ
variations
തിശ്ര ത്രിപുട – ചാപു
നിവാസിനീ അമ്ബ – നിവാസിനീ അമ്ബാ – നിവാസിനീ
കാന്താ താര – കാന്താധാര
.
Pallavi :
May Kamalamba protect me! The one who dwells in my heart & in Tiruvarur
Anupallavi :
The lotus-face worshipped by noble-minded sages; The friend dear to Sundaresha's mind.
The preceptor who bestows Brahmananda; The female parrot in the cage of praNava or AumkAra
Chalaram:
The ruler of the chakra beginning with Tripura;
The controller of the siddhis beginning with Anima; The form of nitya devis beginning with Kameshwari; The one on the Trailokya Mohana chakra known as Bhupura; The famous yogini; The one who slayed Mahishasura & other enemies of the devas; The one revealed by the vedas & puranas; The one ancient than the trinity. The master of manas, buddhi & cittam. The ruler of the triangle. The mother of guruguha; The one who rejoices in the destruction of the 3 cities; The one whose abdomen is like palm of the hand; The Tripurasundari, Maheshvari.
.