Composer: Muttukumaraswamy (முத்துகுமாரச்வாமி) popularly known as Muthuswamy Dikshithar (முத்துஸ்வாமி தீக்ஷிதர் – ముత్తుస్వామీ డిక్షితర్), (March 24, 1775 – October 21, 1835) was born in Tiruvarur (of Thanjavur district of Tamil Nadu) to a Tamil Iyer Brahmin couple Ramaswami Dikshitar and Subbamma, as the eldest son. He also had two younger brothers Baluswami, Chinnaswami and a sister Balambal.Chidambaranatha Yogi was his guru. More…
Raagam: Punnaaga Varaali
Taalam: Roopakam
Diety: Kamalamba Navavarna Kritis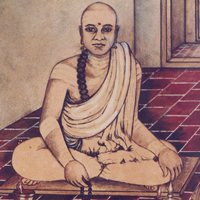 .
Recitals
Kamalambikayastava Bhaktoham
Album: Unknown | Voice: D.K.Jayaraman

Awaiting Contributions.

We believe this kriti was originally composed in sanskrit. Other languages are for your convenience.
పల్లవి
కమలాంబికాయాస్తవ భక్తోऽహం
శంకర్యాః శ్రీ-కర్యాః సంగీత రసికాయాః శ్రీ
అనుపల్లవి
సుమ శరేక్షు కోదండ పాశాంకుశ పాణ్యాః
అతి మధుర-తర వాణ్యాః శర్వాణ్యాః కల్యాణ్యాః
(మధ్యమ కాల సాహిత్యమ్)
రమణీయ పున్నాగ వరాళి విజిత వేణ్యాః శ్రీ
చరణము
దశ కలాత్మక వహ్ని స్వరూప –
ప్రకాశాంతర్దశార సర్వ రక్షా-కర చక్రేశ్వర్యాః
త్రి-దశాది నుత క-చ-వర్గ-ద్వయ-మయ సర్వజ్ఞాది –
దశ శక్తి సమేత మాలినీ చక్రేశ్వర్యాః
త్రి-దశ వింశద్వర్ణ గర్భిణీ కుండలిన్యాః
దశ ముద్రా సమారాధిత కౌళిన్యాః
(మధ్యమ కాల సాహిత్యమ్)
దశ రథాది నుత గురు గుహ జనక శివ బోధిన్యాః
దశ కరణ వృత్తి మరీచి నిగర్భ యోగిన్యాః శ్రీ
variations
రూపకమ్ – తిశ్ర ఏకమ్
శంకర్యాః – శ్రీ శంకర్యాః
.
பல்லவி
கமலாம்பி3காயாஸ்தவ ப4க்தோऽஹம்
ஸ1ங்கர்யா: ஸ்ரீ-கர்யா: ஸங்கீ3த ரஸிகாயா: ஸ்ரீ
அனுபல்லவி
ஸும ஸ1ரேக்ஷு கோத3ண்ட3 பாஸா1ங்குஸ1 பாண்யா:
அதி மது4ர-தர வாண்யா: ஸ1ர்வாண்யா: கல்யாண்யா:
(மத்4யம கால ஸாஹித்யம்)
ரமணீய புன்னாக3 வராளி விஜித வேண்யா: ஸ்ரீ
சரணம்
த3ஸ1 கலாத்மக வஹ்னி ஸ்வரூப –
ப்ரகாஸா1ந்தர்த3ஸா1ர ஸர்வ ரக்ஷா-கர சக்ரேஸ்1வர்யா:
த்ரி-த3ஸா1தி3 நுத க-ச-வர்க3-த்3வய-மய ஸர்வக்3ஞாதி3 –
த3ஸ1 ஸ1க்தி ஸமேத மாலினீ சக்ரேஸ்1வர்யா:
த்ரி-த3ஸ1 விம்ஸ1த்3வர்ண க3ர்பி4ணீ குண்ட3லின்யா:
த3ஸ1 முத்3ரா ஸமாராதி4த கௌளின்யா:
(மத்4யம கால ஸாஹித்யம்)
த3ஸ1 ரதா2தி3 நுத கு3ரு கு3ஹ ஜனக ஸி1வ போ3தி4ன்யா:
த3ஸ1 கரண வ்ரு2த்தி மரீசி நிக3ர்ப4 யோகி3ன்யா: ஸ்ரீ
variations
ரூபகம் – திஸ்1ர ஏகம்
ஸ1ங்கர்யா: – ஸ்ரீ ஸ1ங்கர்யா:
.
ಪಲ್ಲವಿ
ಕಮಲಾಂಬಿಕಾಯಾಸ್ತವ ಭಕ್ತೋऽಹಂ
ಶಂಕರ್ಯಾಃ ಶ್ರೀ-ಕರ್ಯಾಃ ಸಂಗೀತ ರಸಿಕಾಯಾಃ ಶ್ರೀ
ಅನುಪಲ್ಲವಿ
ಸುಮ ಶರೇಕ್ಷು ಕೋದಂಡ ಪಾಶಾಂಕುಶ ಪಾಣ್ಯಾಃ
ಅತಿ ಮಧುರ-ತರ ವಾಣ್ಯಾಃ ಶರ್ವಾಣ್ಯಾಃ ಕಲ್ಯಾಣ್ಯಾಃ
(ಮಧ್ಯಮ ಕಾಲ ಸಾಹಿತ್ಯಮ್)
ರಮಣೀಯ ಪುನ್ನಾಗ ವರಾಳಿ ವಿಜಿತ ವೇಣ್ಯಾಃ ಶ್ರೀ
ಚರಣಮ್
ದಶ ಕಲಾತ್ಮಕ ವಹ್ನಿ ಸ್ವರೂಪ –
ಪ್ರಕಾಶಾಂತರ್ದಶಾರ ಸರ್ವ ರಕ್ಷಾ-ಕರ ಚಕ್ರೇಶ್ವರ್ಯಾಃ
ತ್ರಿ-ದಶಾದಿ ನುತ ಕ-ಚ-ವರ್ಗ-ದ್ವಯ-ಮಯ ಸರ್ವಜ್ಞಾದಿ –
ದಶ ಶಕ್ತಿ ಸಮೇತ ಮಾಲಿನೀ ಚಕ್ರೇಶ್ವರ್ಯಾಃ
ತ್ರಿ-ದಶ ವಿಂಶದ್ವರ್ಣ ಗರ್ಭಿಣೀ ಕುಂಡಲಿನ್ಯಾಃ
ದಶ ಮುದ್ರಾ ಸಮಾರಾಧಿತ ಕೌಳಿನ್ಯಾಃ
(ಮಧ್ಯಮ ಕಾಲ ಸಾಹಿತ್ಯಮ್)
ದಶ ರಥಾದಿ ನುತ ಗುರು ಗುಹ ಜನಕ ಶಿವ ಬೋಧಿನ್ಯಾಃ
ದಶ ಕರಣ ವೃತ್ತಿ ಮರೀಚಿ ನಿಗರ್ಭ ಯೋಗಿನ್ಯಾಃ ಶ್ರೀ
variations
ರೂಪಕಮ್ – ತಿಶ್ರ ಏಕಮ್
ಶಂಕರ್ಯಾಃ – ಶ್ರೀ ಶಂಕರ್ಯಾಃ
.
पल्लवि
कमलाम्बिकायास्तव भक्तोऽहं
शङ्कर्याः श्री-कर्याः सङ्गीत रसिकायाः श्री
अनुपल्लवि
सुम शरेक्षु कोदण्ड पाशाङ्कुश पाण्याः
अति मधुर-तर वाण्याः शर्वाण्याः कल्याण्याः
(मध्यम काल साहित्यम्)
रमणीय पुन्नाग वराळि विजित वेण्याः श्री
चरणम्
दश कलात्मक वह्नि स्वरूप –
प्रकाशान्तर्दशार सर्व रक्षा-कर चक्रेश्वर्याः
त्रि-दशादि नुत क-च-वर्ग-द्वय-मय सर्वज्ञादि –
दश शक्ति समेत मालिनी चक्रेश्वर्याः
त्रि-दश विंशद्वर्ण गर्भिणी कुण्डलिन्याः
दश मुद्रा समाराधित कौळिन्याः
(मध्यम काल साहित्यम्)
दश रथादि नुत गुरु गुह जनक शिव बोधिन्याः
दश करण वृत्ति मरीचि निगर्भ योगिन्याः श्री
variations
रूपकम् – तिश्र एकम्
शङ्कर्याः – श्री शङ्कर्याः
.
pallavi
kamalAmbikAyAstava bhaktO(a)haM
SankaryAH SrI-karyAH sangIta rasikAyAH SrI
anupallavi
suma SarEkshu kOdaNDa pASAnkuSa pANyAH
ati madhura-tara vANyAH SarvANyAH kalyANyAH
(madhyama kAla sAhityam)
ramaNIya punnAga varALi vijita vENyAH SrI
caraNam
daSa kalAtmaka vahni svarUpa –
prakASAntardaSAra sarva rakshA-kara cakrESvaryAH
tri-daSAdi nuta ka-ca-varga-dvaya-maya sarvajnAdi –
daSa Sakti samEta mAlinI cakrESvaryAH
tri-daSa viMSadvarNa garbhiNI kuNDalinyAH
daSa mudrA samArAdhita kauLinyAH
(madhyama kAla sAhityam)
daSa rathAdi nuta guru guha janaka Siva bOdhinyAH
daSa karaNa vRtti marIci nigarbha yOginyAH SrI
variations
rUpakam – tiSra Ekam
SankaryAH – SrI SankaryAH
.
പല്ലവി
കമലാമ്ബികായാസ്തവ ഭക്തോऽഹം
ശങ്കര്യാഃ ശ്രീ-കര്യാഃ സങ്ഗീത രസികായാഃ ശ്രീ
അനുപല്ലവി
സുമ ശരേക്ഷു കോദണ്ഡ പാശാങ്കുശ പാണ്യാഃ
അതി മധുര-തര വാണ്യാഃ ശര്വാണ്യാഃ കല്യാണ്യാഃ
(മധ്യമ കാല സാഹിത്യമ്)
രമണീയ പുന്നാഗ വരാളി വിജിത വേണ്യാഃ ശ്രീ
ചരണമ്
ദശ കലാത്മക വഹ്നി സ്വരൂപ –
പ്രകാശാന്തര്ദശാര സര്വ രക്ഷാ-കര ചക്രേശ്വര്യാഃ
ത്രി-ദശാദി നുത ക-ച-വര്ഗ-ദ്വയ-മയ സര്വജ്ഞാദി –
ദശ ശക്തി സമേത മാലിനീ ചക്രേശ്വര്യാഃ
ത്രി-ദശ വിംശദ്വര്ണ ഗര്ഭിണീ കുണ്ഡലിന്യാഃ
ദശ മുദ്രാ സമാരാധിത കൌളിന്യാഃ
(മധ്യമ കാല സാഹിത്യമ്)
ദശ രഥാദി നുത ഗുരു ഗുഹ ജനക ശിവ ബോധിന്യാഃ
ദശ കരണ വൃത്തി മരീചി നിഗര്ഭ യോഗിന്യാഃ ശ്രീ
variations
രൂപകമ് – തിശ്ര ഏകമ്
ശങ്കര്യാഃ – ശ്രീ ശങ്കര്യാഃ
.
Pallavi :
I am a devotee of you, kamalambika. The auspicious, the harbinger of prosperity, the connoisseur of music.
Anupallavi:
The one who holds bow of sugarcane, arrow of flowers, the noose and goad, the one with the sweetest voice, the consort of sharva; the auspicious, the one whose tresses are blacker than the bees in the punnaga trees.
Charanam:
The controller of the Sarvarakshakara chakra with ten petals ; The controller of the Malini chakra which has the ten shaktis beginning with Sarvagna the shakti represented by the ka series & ca series and praised by the devas;
the one who is kundalini which is embodied in the 50 letters; The kaulini devi worshipped with the 10 mudras, the perceptor of shiva – the father of guruguha; The one adored by dasharatha; the one who has taken the form of yogini power who holds in herself hearing and all activities of the 10 indriyas.
.