Composer: Sri Tallapaka Annamacharya (Annamayya అన్నమయ్య) , May 9, 1408 – February 23, 1503 was born to Narayana Suri and Lakkamamba in Tallapaka, a village in current day Kadapa district of Andhra Pradesh. More….
Keerthana No. 447
Copper Sheet No. 188
Pallavi: Racajje maralinca (రాచాజ్ౙ మరలించ)
Ragam: Samantham
Language: Telugu (తెలుగు)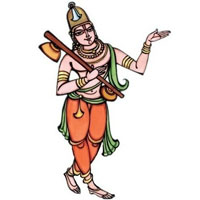 Recitals
Awaiting Contributions.
…
Awaiting Contributions.
[audio: audio-instrumental-file-name.mp3].
This Kriti was originally composed in Telugu. Other languages are for your convenience.
Pallavi
|| రాచాజ్ౙ మరలించ రాజే కర్తగాన | యేచి నీకు శరణంటి నిది మానుపవే ||
Charanams
|| కడు నహకరించినను తొల్లి ఘనుడు నారదమౌని |
బెడిదపుటింతి జేసి నీమాయ ఆతని బిడ్డల గనిపెంచెను |
అదరి నే ననగా నెంతటివాడను అది నే గడపగలనా |
తడవి నే శరణంటి దనుజారి ఆమాయ దగ్గరకుండగజేయవే ||
|| మహి మిమ్ము మోచేనని మున్ను మదించినగరుడనిని |
సహజపునీహస్తము మోయకుండగ శక్తి హరించె నీమాయ |
బహుముఖముల, నే నెంతటివాడను పాయగ నీమాయ |
అహిశయనుడ నే శరణంటిని అది నన్ను దగ్గరకుండజేయవే ||
|| సారపుశ్రీవేంకటేశ స్వతంత్రుడవు నీవు |
గారవపుమాయ నీదే కమ్మి నే నీవాడనే |
మారుదైవములు లేరు మరి నన్ను గావ నిన్ను |
బేరుకొని శరణంటి బెడబాపు మాయ ||
.
Pallavi
|| rAcAj~ja maraliMca rAjE kartagAna | yEci nIku SaraNaMTi nidi mAnupavE ||
Charanams
|| kaDu nahakariMcinanu tolli GanuDu nAradamauni |
beDidapuTiMti jEsi nImAya Atani biDDala ganipeMcenu |
adari nE nanagA neMtaTivADanu adi nE gaDapagalanA |
taDavi nE SaraNaMTi danujAri AmAya daggarakuMDagajEyavE ||
|| mahi mimmu mOcEnani munnu madiMcinagaruDanini |
sahajapunIhastamu mOyakuMDaga Sakti hariMce nImAya |
bahumuKamula, nE neMtaTivADanu pAyaga nImAya |
ahiSayanuDa nE SaraNaMTini adi nannu daggarakuMDajEyavE ||
|| sArapuSrIvEMkaTESa svataMtruDavu nIvu |
gAravapumAya nIdE kammi nE nIvADanE |
mArudaivamulu lEru mari nannu gAva ninnu |
bErukoni SaraNaMTi beDabApu mAya ||
.

We will update this page , once we find comprehensive meaning. Feel free to contribute if you know.
.