Composer: Muttukumaraswamy (முத்துகுமாரச்வாமி) popularly known as Muthuswamy Dikshithar (முத்துஸ்வாமி தீக்ஷிதர் – ముత్తుస్వామీ డిక్షితర్), (March 24, 1775 – October 21, 1835) was born in Tiruvarur (of Thanjavur district of Tamil Nadu) to a Tamil Iyer Brahmin couple Ramaswami Dikshitar and Subbamma, as the eldest son. He also had two younger brothers Baluswami, Chinnaswami and a sister Balambal.Chidambaranatha Yogi was his guru. More…
Raagam: Dhamavathi
Taalam: Adi
Diety: Sri Rama Chandra Vibhakti Krithis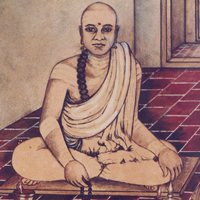 .
Recitals
Album: Unknown | Voice: Balaji, Shankar

Awaiting Contributions.

We believe this kriti was originally composed in sanskrit. Other languages are for your convenience.
పల్లవి
రామ చంద్రస్య దాసోऽహం
శ్రీ సీతా నాయకస్య గురు గుహ హితస్య
సమష్టి చరణం
సామ దాన భేదాది చతురస్య
సజ్జన పాలస్య దుష్ట హరస్య
(మధ్యమ కాల సాహిత్యం)
సమయాచార సంప్రదాయకస్య
శబరీ మోక్ష ప్రదస్య వరస్య
.
பல்லவி
ராம சந்த்3ரஸ்ய தா3ஸோऽஹம்
ஸ்ரீ ஸீதா நாயகஸ்ய கு3ரு கு3ஹ ஹிதஸ்ய
ஸமஷ்டி சரணம்
ஸாம தா3ன பே4தா3தி3 சதுரஸ்ய
ஸஜ்ஜன பாலஸ்ய து3ஷ்ட ஹரஸ்ய
(மத்4யம கால ஸாஹித்யம்)
ஸமயாசார ஸம்ப்ரதா3யகஸ்ய
ஸ1ப3ரீ மோக்ஷ ப்ரத3ஸ்ய வரஸ்ய
.
ಪಲ್ಲವಿ
ರಾಮ ಚಂದ್ರಸ್ಯ ದಾಸೋऽಹಂ
ಶ್ರೀ ಸೀತಾ ನಾಯಕಸ್ಯ ಗುರು ಗುಹ ಹಿತಸ್ಯ
ಸಮಷ್ಟಿ ಚರಣಂ
ಸಾಮ ದಾನ ಭೇದಾದಿ ಚತುರಸ್ಯ
ಸಜ್ಜನ ಪಾಲಸ್ಯ ದುಷ್ಟ ಹರಸ್ಯ
(ಮಧ್ಯಮ ಕಾಲ ಸಾಹಿತ್ಯಂ)
ಸಮಯಾಚಾರ ಸಂಪ್ರದಾಯಕಸ್ಯ
ಶಬರೀ ಮೋಕ್ಷ ಪ್ರದಸ್ಯ ವರಸ್ಯ
.
पल्लवि
राम चन्द्रस्य दासोऽहं
श्री सीता नायकस्य गुरु गुह हितस्य
समष्टि चरणम्
साम दान भेदादि चतुरस्य
सज्जन पालस्य दुष्ट हरस्य
(मध्यम काल साहित्यम्)
समयाचार संप्रदायकस्य
शबरी मोक्ष प्रदस्य वरस्य
.
pallavi
rAma candrasya dAsO(a)haM
SrI sItA nAyakasya guru guha hitasya
samashTi caraNam
sAma dAna bhEdAdi caturasya
sajjana pAlasya dushTa harasya
(madhyama kAla sAhityam)
samayAcAra saMpradAyakasya
SabarI mOksha pradasya varasya
.
പല്ലവി
രാമ ചന്ദ്രസ്യ ദാസോऽഹം
ശ്രീ സീതാ നായകസ്യ ഗുരു ഗുഹ ഹിതസ്യ
സമഷ്ടി ചരണമ്
സാമ ദാന ഭേദാദി ചതുരസ്യ
സജ്ജന പാലസ്യ ദുഷ്ട ഹരസ്യ
(മധ്യമ കാല സാഹിത്യമ്)
സമയാചാര സമ്പ്രദായകസ്യ
ശബരീ മോക്ഷ പ്രദസ്യ വരസ്യ
.
Pallavi
I am the slave of Shrirama, Lord of Sita, the one dear to Guruguha.
Samashti Charanam
(I am the slave of) the one well-versed in the four means of achieving ends – Bheda and . peacemaking, rewarding, creating rivalry and punishing,the one who is the saviour of the good and remover of the evil.the one who adheres to all religious traditions and practices;
the revered one
.