Composer: Sri Tallapaka Annamacharya (Annamayya అన్నమయ్య) , May 9, 1408 – February 23, 1503 was born to Narayana Suri and Lakkamamba in Tallapaka, a village in current day Kadapa district of Andhra Pradesh. More….
Keerthana No. 220
Copper Sheet No. pt 39
Pallavi: Unnatonnatudu (ఉన్నతోన్నతుడు)
Ragam: Samantham
Language: Telugu (తెలుగు)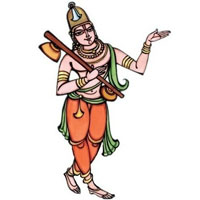 Recitals
Awaiting Contributions.
…
Awaiting Contributions.
[audio: audio-instrumental-file-name.mp3].
This Kriti was originally composed in Telugu. Other languages are for your convenience.
Pallavi
ఉన్నతోన్నతుడు వుడయవరు
యెన్న ననంతుడే యీ వుడయవరు
Charanams
1.సర్వలోకముల శాస్త్రరహస్యము
లుర్వి( బొడమె నీ యుడయవరు
పూర్వపు వేదాంత పుణ్యశాస్రములు
నిర్వహించె నన్నిటా నుడయవరు
2.వెక్కస(పు శ్రీవిష్ణుభక్తియే
వొక్కరూపమే వుడయవరు
చక్కనైన సుజ్ఞానమున కిరవై
వుక్కు మీఱెనిదె వుడయవరు
3.కదినె మోక్షసాకారము దానై
వుదుటున నిలిచె నీ వుడయవరు
యిదిగో శ్రీవేంకటేశ్వరు యీ(నీ)డై
పొదలుచు నున్నాడు భువి నుడయవరు
.
Pallavi
unnatOnnatuDu vuDayavaru
yenna nanaMtuDE yI vuDayavaru
Charanams
1.sarwalOkamula SAstrarahasyamu
lurvi( boDame nI yuDayavaru
pUrwapu vEdAMta puNyaSAsramulu
nirwahiMche nanniTA nuDayavaru
2.vekkasa(pu SrIvishNubhaktiyE
vokkarUpamE vuDayavaru
chakkanaina suj~nAnamuna kiravai
vukku mI~renide vuDayavaru
3.kadine mOkshasAkAramu dAnai
vuduTuna niliche nI vuDayavaru
yidigO SrIvEMkaTESwaru yI(nI)Dai
podaluchu nunnADu bhuvi nuDayavaru
.

We will update this page , once we find comprehensive meaning. Feel free to contribute if you know.
.